Isle of Canna by Kayak
Tall green cliffs dived into the North Atlantic and the waves around us probably felt bigger then they really were, but the excitement of our first sea kayaking experience was as big as the cliffs were tall. For one weekend we put our trust in Mike, an experienced sea kayaker who runs a kayak adventure company on the west coast of Scotland called Arisaig Sea Kayak Centre. As new beginners at kayaking, this Slow Adventure is another example of how slow adventuring can be both physically and mentally challenging. In this post you can read about the challenges we faced on our very first sea kayaking trip and why it finally became one of our best slow adventures of 2017!
Check out our Let's Go Slow film from Canna
This post was made possible with help from the Slow Adventure in the Northern Territories (SAINT) project. Read more about our fantastic new sponsor here! Although this post is sponsored, all opinions are our own.
About Canna: the outermost island of the small isles.
The Isle of Canna and the connected tidal island Sanday are the outermost islands of the small isles archipelago, in the Scottish Inner Hebrides. Located on the west coast of Scotland, it can only be reached by boat or ferry. The island was left to the National Trust of Scotland in the 1980's by its previous owner John Lorne Campbell. There's only about 20 houses on the remote island, and few permanent residents living there. Most supplies are collected from the mainland, while a local honesty shop (a shop without staff, where you leave money in a box) provides everyday items, free WiFi, and really nice authentic souvenirs for tourists.
After picking up our kayaks in Arisaig, we boarded the ferry at Mallaig. The ferry crossing itself is a wonderful intro to these small islands, with lovely views of Rum's deer and beaches. Once we arrived at Canna, we had a quick picnic stop at the harbour and hurried excitedly into the water for our first lesson. Mike was watching the wind cautiously, and was keen for us to get in the water before the waves grew bigger. Kayaking seemed all about seizing the moment, by being adaptive to nature's rhythms.
The mental challenges of a new slow adventure
To be honest, the first feeling of being in a sea kayak was pretty scary. It was difficult to understand the kayak and Thea was nervous about her camera gear getting wet - salt water is basically the worst thing to get on a SDLR. Challenging moments are big mental exercises. Combining our role as bloggers and learning how to kayak in a windy sea had its challenges!
Those challenges are not unique to us. Everyone takes their own fear or problems along with them on an adventure like this, and it's over-coming these obstacles and learning how to become comfortable that is the real gain from a slow adventure.
For every journey, we learn something new that makes us more comfortable on the next trip. Sometimes its a practical solution or different gear, and other times it's about trusting yourself or learning new skill. For Thea, this trip taught her to open up and trust in Mike's expertise. Learning by doing meant the feeling of comfort grew.
Kayaking to remote white sands
Finally in the water, we had a small practise round in the bay. Surrounded by curious seals our confidence grew, and so we soon paddled towards the narrow sound that separates Sanday from the Isle of Canna on a high tide.

Outside the bay we could see the windy sea hammering into the west coast's cliffs, making the sea choppy. Mike soon turned left, guiding us towards a hidden white sandy beach. So pristine and delicate, it looked almost misplaced near the hammering cold Atlantic.
The Canna Campsite - Tents and puffin pods
After a wonder on the beach we got back in the kayaks and headed to our weekend home: The Canna Campsite. Located on the hill, a 20 minute walk from the harbour, it offers a spectacular panorama view of the sea. We stayed in one of the "puffin pods", as did another couple, while others from our group pitched tents.
The campsite is well thought out. A communal open kitchen hut brings people together for breakfast and food prep. Inspiring views and curious highland cows give it a tranquility that's hard to find.
All weather slow adventuring
Scotland's reputation for changeable weather held up, and as the sea conditions became less beginner friendly, we took a hike around Canna. Mike knew a lot about the place, and one of the group was a sharp-eyed bird watcher. Despite the weather, there was never a dull moment. Mike took us to the northern edge of the island, where we could see impressive stacks and cliffs - gaining a very different view from the sandy beaches and accessible coastline.
Sea kayaking the swelling sea
We discovered a hidden beach towards the end of the hike, giving us a welcomed break from the wind. The contrast between the two sides of Canna was striking, as was the reminder of how quickly conditions can change.
Later the wind dropped and we set about our second kayak trip. This time we'd escape the calm bay and head for the sea. We felt more tested, as the sea's swell brought new risks such as crashing waves on rocks and things you really needed to avoid. Being in a double kayak felt really solid and stable, so once we stored the camera gear we got to be more in the moment, working as a team to assess and decide things together.
The swell felt big. A tug of war with gravity through the rise and fall of our kayak, changing our view and challenging our comfort zone.
To be on that edge of excitement, learning from a new experience and apparent danger, is the beauty of guided trips like this. A quick glance over to Mike who effortlessly cuts through the water, reassured us that we're in good hands. You smile and accept it, pushing on - we're beginners at this after all. It's what gave us such as massive reward through a sense of achievement later, as we appreciated what's possible with sea kayaking, while holding a deeper respect for the sea.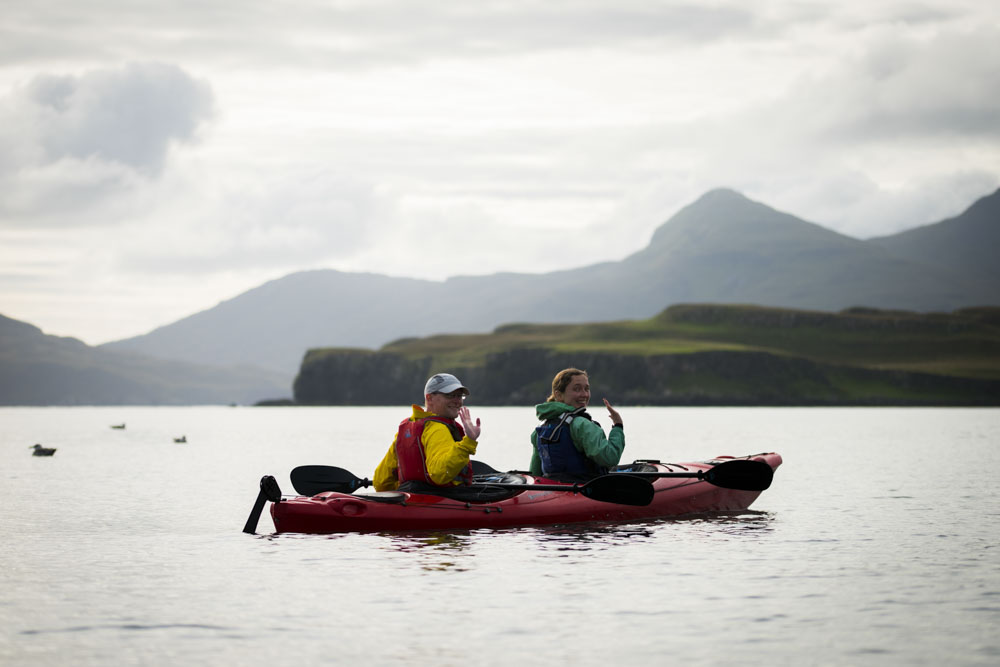 Food and drinks at Canna Café
We were all pretty knackered, yet glowing - and delighted that Mike booked a table at the Canna Cafe. Warmth, beer and some friendly chat about the day brought a warming sense of achievement, but also awe for the endless opportunities that sea kayaking offers. Ambitions to kayak more unfolded, and we looked at the weather forecast to see what options we'd have the following day.
When available, the Cafe offers local lobster - but since the weather was exciting, it couldn't get landed and so we enjoyed a lovely veggie lasagne instead. A few beers and a look around the honesty shop got us well refreshed, and back on our feet.
Back at the campsite we relaxed by the calming sounds of the dark sea, and slept like logs after a nightcap at the Puffin Pod.
Paddling a flat sea
We had a short window of opportunity the following morning. With the ferry leaving at noon, we went all-in on getting up early. We paddled the opposite way from before, passing our hidden beach, then hugging the coastline towards the northern sea stacks. The sea was flat, skies blue and with the efforts of yesterday still fresh in our muscles, everything came together.
Mark (finally) worked out the rudder controls, letting us maintain course. Our boat had been nicknamed the compass needle up to now.
This was bliss - tranquil and peaceful, surrounded by stunning Scottish nature and wildlife. As we paddled, relaxed, smiling (and ruddering) we caught intimate glimpses of eagles, shags and other coastal birds. Being able to simply pause and appreciate those moments made for a relaxing, more immersive rhythm.
The Cuillin mountains of Skye were directly opposite, and there was something nice about seeing Skye from the coast of another island.
Big nature lets us feel small
Towering cliffs and sea stacks brings a feeling of humbleness and humility. We feel small again, playing among the caves and stacks, being surprised at each meeting of a bird or the unfolding landscape. Our last paddle trip together had a child-like quality to it, awe inspired and playful.
Canna's seal colony
As we made our way back in time to reach the ferry, we paused at Canna's seal colony. Getting closer to these wonderfully curious animals, and meeting them at their habitat, was a great connection to make. Both the common seal and grey seal were there, with birds watching our movements from the rocks.
Slow Adventuring by kayak
Our first kayaking experience was really enjoyable, it challenged us and left us with lasting memories. We can't wait to do it again. If you would like a similar slow adventure, check out Mike and his company here: Arisaig Sea Kayak Centre: www.arisaigseakayakcentre.co.uk
If you fancy bringing your own kayak or you just want to check out Canna by foot, you can find more information here:
Calmac Ferry to Canna: https://www.calmac.co.uk/destinations/canna
Book a table at the Canna café (Ask for lobster, if you want a local treat!): http://www.cafecanna.co.uk
Staying at the Canna campsite is definitely recommended: https://www.cannacampsite.com/
We'd like to thank SAINT, the Northern Periphery and Arctic Programme, and the European Union for their support in making this post happen!
The SAINT project: www.saintproject.eu