Go slow in South East Iceland
Iceland is unique. It's vast open landscape, high mountains, fjords and glaciers create the perfect base for adventure tourism. This tiny country is one of the worlds "must see places" and millions of people rush through delicate nature to see it all. In this blog post you can read about how we found space for slow adventure, and introduce a local guide that brought us to Icelandic culture though mindfullness, food and stunning scenery. 
This post was made possible with help from the Slow Adventure in the Northern Territories (SAINT) project. Read more about our fantastic sponsor here!  Although this post is sponsored, all opinions are our own.
An early start from Oslo to Reykjavik 
We're really excited to be travelling to Iceland, so much so we hardly could get to bed any quicker the night before.
Got up early, bags all packed and hit Oslo's airport train to get us on our flight to Reykjavik. As we approached Iceland in the air, the pilot told us we had a great view of Vatnajökull - Europe's largest icecap, and it was spectacular! We got to see it's whole southern side (where we'd continue our journey in a couple of hours) as the plane followed the coast line west, then rounding north to land.
With little time - we decided to do one thing
Our options were few in Reykjavik. We had a connecting flight just 4 hours later, but really didn't want to stay in the airport. We decided to bathe, but to ditch the touristy "Blue Lagoon" and go straight for the amazing public baths at Laugardalslaug.
We jumped on the bus and asked the driver to drop us off a little before his usual stop which he was happy to do. It let us grab some lunch at Lauga-Lækur cafe which was amazing. Lovely calzone and flat bread, light lager and an IPA. Mark also went for creamy mushroom soup. With bellies full, we were ready to bathe! 
First we needed towels. Mark, naked it the gents changing room, suddenly had his attention drawn to the fact we had no towel. Thea - too excited about the prospect of "bading" couldn't care less, and Mark knew this to be the case. A very quick redressing and scamper to the reception sorted two rental towels, then Mark got one of the staff to co-ordinate a meeting in the no-man's land between the male and female changing areas. Some echos of Icelandic were heard, and Thea had a towel in her hand, as if by magic.
Outdoor bath from thermal springs
We explored the bathing opportunities, as the locals bathed in both warm water and sun. A salt water geothermal pool was the most popular, and we loved it too. Mixing it in with an occassional swim or steam room session was great to break up the travel cramps!
To be in a warm, 50m pool where the air is a chilly -1C makes a fine mist that floats over the surface. Something reassuringly inviting about knowing the water will keep you warm.
From Reykjavik to Höfn
Having booked a taxi to rush us to the tiny Eagle Air airpot, we got on to a small 30 seater propeller plane for Höfn. The sun was starting to set, and we got to see Vatnajökull all over again, this time in delicious evening light, with those long shadows and colours that come with winter.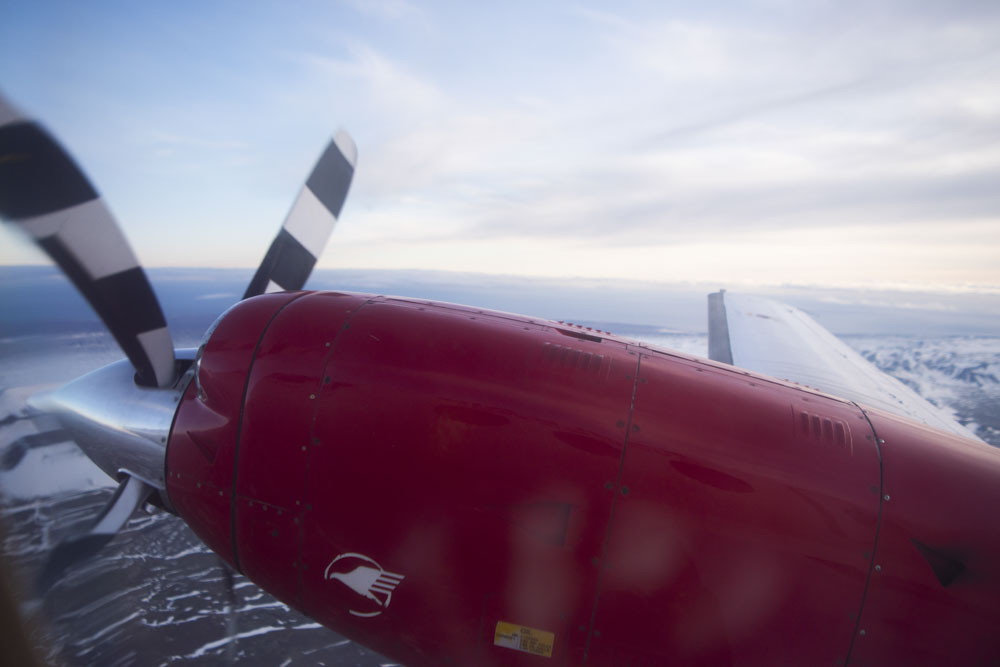 Being able to watch the captain and flight officer control the plane and see out their windows by being seated near the front was really exciting, everything being more manual. We were the only tourists in the airport or on the plane, a good indicator that we were making great choices heading to Höfn in March.
Guesthouse
We settled into the Setberg Guesthouse and met Stefan and his lovely sheepdog. After a quick dinner and a lovely Icelandic G&T we headed out to check for northern lights. 
Just when we were discussing using a long exposure shot to "check" if northern lights were on their way, we could see them with our eyes already! 
They made for a great backdrop to the nearby mountains.

We got back inside and warm ourselves up with some tea. Happy to have experienced our first glimpse of the Icelandic aurora. 
Heart of Höfn
The next morning we met our guide, Hulda, at Steffan's guesthouse and drove to Höfn. She's from there, and lived in Höfn for most of her life.
A quick introduction to the town from her car gave us some understanding to how small the community is. She pointed out her house, her neighbour walking on the street - giving a friendly wave.
Her walking tour "Heart of Höfn" started off at the old merchant store, which she explained had originally been located further east on the coast, until the merchant decided to move it, as people living and farming west of the shop had up to a week's travel (back and forth) by horse to trade there.
Once the merchant had moved the store (which later was moved a couple of times inside the village), a few houses were built, forming the start of today's Höfn.
The merchant store is now a museum and tourist office, and holds a lot of Höfn's history and stories. 
The story of Höfn a fishing village
Höfn sits in the middle of a peninsula, fjords on either side, land locked by a long bridge of sand. Over time, the glacial rivers, and the sea have brushed sediment from eruptions and rock erosion to form a barrier, locking in parts of the sea on either side of Höfn. Valuable fishing grounds are located at the south east coast, and Icelandic people used to flock here in the season, to fish these waters. Over time, many of them settled down in the village.
Hulda's personal stories made Icelandic culture come to life 
In later times the development of larger motored engines, brought trade and bigger risks. Hulda lost her Uncles and other family members to the sea, in a very personal journey that can be seen through the maritime museum. Her father's fishing boat sits up on the side of the harbour - a wonderful oak fishing boat for long line fishing - brings images to mind of hours of baiting lines and talking about the weather and singing songs.
A mindful transition from Höfn village to spectacular scenery
Walking west from the harbour gives a wonderful viewpoint.
Before reaching the viewpoint, Hulda stoped us and told us to close our eyes.
A short mindfulness session let us change mindset, with Hulda helping us silence our wondering thoughts and fully appreciate the awe of Vatnajokul as we opened our eyes, like inhaling the light and force of nature that is the glacial process, in action right in front of us.
The long tongues of the glacier reaching out, yet retreating, becoming diminished by time, sand and rising temperatures from climate change.
Lunch and blues at Pakkhús
After ending our cultural introduction with Hulda overlooking the glaciers, we had a fantastic lunch at the Pakkhús, where a band started playing in the run up to the blues festival at Höfn.
After learning about the Icelandic fishermen, seeing their old accommodations and wondering in their footsteps, it was wonderful to sit down and relax in this historic restaurant. The house was originally used as a warehouse and all the old markings and stamps on the wall are preserved from this time, making the Pakkhús a very authentic place for a local meal. 

The Pakkhús specialise in local ingredients from both land and sea. Höfn is known for langoustine and is often called the capital of langoustine in Iceland. Their tasty langoustine (Icelandic lobster) comes fresh, straight from Sigurdur Olafsson SF44 - the red ship often seen just outside our window and the boats of Skinney Þinganes.
One thermal bath every day on Iceland
It was in the Pakkhús that we met our taxi driver for the day, Jon. We highly recommend hiring a car on Iceland, but if you, like us, want to slow things down you can come a long way with a few taxi rides. The best thing about taking a taxi in a place like Höfn is that you often also get an enthusiastic local guide. And you also leave your money in the local community, instead of an international company at the airport. 
After lunch, Jon took us to some local hot tubs near to Stefan's guesthouse for an evening bathe. The hot tubs are simple glassfibre tubs in the ground, filled with warm thermal water from a nearby spring. Leave your money in the honesty box and change into your bathing costume in the nearby porto cabins. 
We brought a few cold beers and chilled out for a couple of hours. 
5 tips for spontaneous bathing on Iceland 
1. Always bring your swimming costume
2. Bring a towel
3. Some money in cash
4. Ear warmer or hat to keep your ears warm in the hot tub.  
5. Some thing nice to drink and water ( it's easy to get dehydrated in the hot tubs)