A slow adventure weekend in Leitrim
Ireland is a country full of amazing destinations and the county of Leitrim often disappeared in into the background, compared to Dublin and the spectacular west coast. Leitrim has beautiful countryside, serine space, slow food and miles of walking and cycle paths. The result is a deep plunge into place, and coming out refreshed and energised. In this post you can read about our slow adventure weekend packed with wellness and adventure!
This post was made possible with help from the Slow Adventure in the Northern Territories (SAINT) project. Read more about our fantastic sponsor here! Although this post is sponsored, all opinions are our own.
Yoga to peel off the stresses of travel
We had some delays getting our rental car at Dublin airport, and so were pretty stressed getting to our Ard Nahoo retreat for a 6pm yoga class.
Making it with 5 minutes to get changed, we were warmly welcomed by Noeleen who really appreciated we made it for her evening class.
Noeleen made us feel at ease, as the yoga course started to gradually fill the room. The room itself felt like a small yoga hall - a kind of temple that resonates both her voice and the atmosphere.
We went through the yoga session, trying to peel off the stresses of travel. Noeleen focused on pelvis, hips and feeling earthed to the ground. It provided a great way to feeling supported by the earth, and grounded to it, but looking up to appreciate the endless opportunities, and the sense of belonging to something infinitely greater than ourselves.
It shattered all the little day-time fuss that builds around travel: the renting of a car, half-jogging around airports, and the huge numbers of people that always catch the attention of our focus. To go back to what's fundamental - the body, appreciation of its support and the environment which supports it.
From busy "globetrotters" to open travelers
Noeleen helped though her positive, strong & bold feminine energy - repositioning hips and encouraging stretch as she called out the next clear instruction. Her motivating voice penetrates - you can't stop but smile and immediately do as she says. Your muscles smile back, knowing they're getting to run free from the confines of our endless seated position - especially cramped up as we were in our day of travel.
Retreating to our eco-cabin
Once the class finished, we got settled into our cabin at the retreat. We'd stay in Holly, one of the larger cabins. The stove burns wooden pellets, making a relaxing release sound as more pellets are dispensed into the flames. Everything has an ecological touch, feeling more practical than what usually furnishes homes, or cabins.
Tasty Pastry Pie
Our dinner was delivered to our cabin, a gorgeous aubergine pastry pie with mustard, cauliflower and roasted potatoes. We made peppermint tea and soaked up that rested feeling you get from an hour's yoga stretch. The bed invited us early and we slept like stones.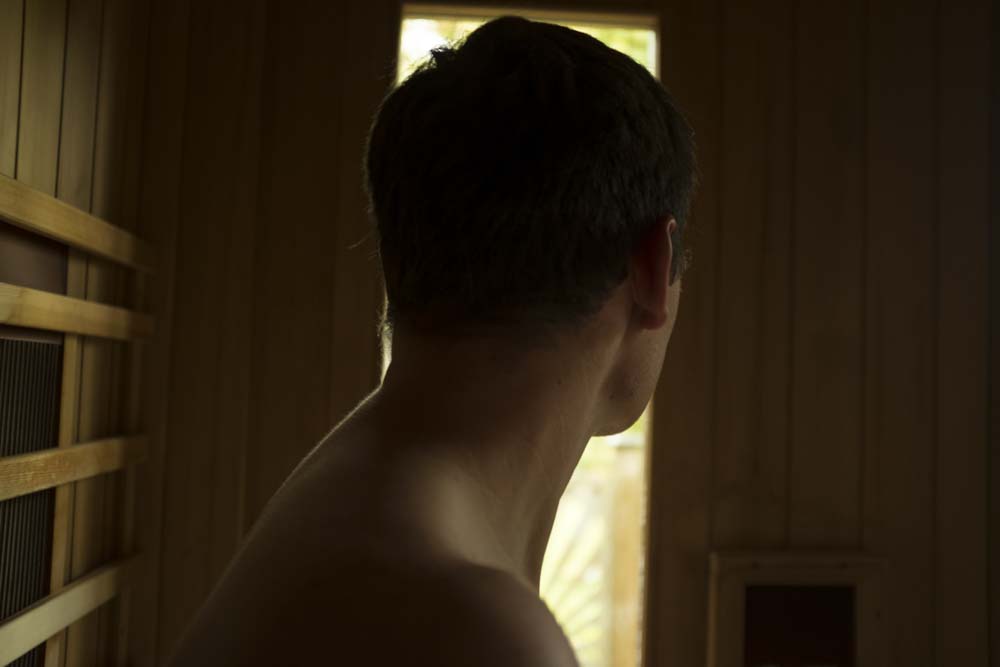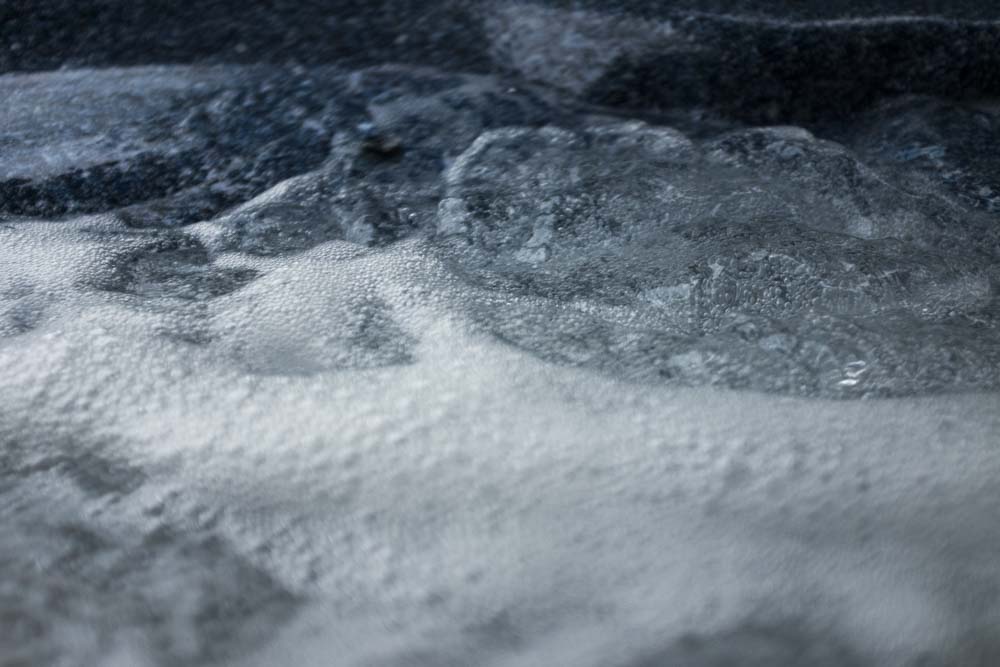 Breakfast & Uisce treatment
Our start to the day was a lovely breakfast hamper, with simple bread, butter, eggs and muesli with milk. We had a relaxing breakfast and wondered over to the main building for our Uisce treatment - Irish Gaelic for water. We started with a shower, then jumped in the infrared sauna. It gave a remarkable heat - like being massaged on the inside, soothing the muscles. Sweat beads form on dry skin differently from a normal sauna. It was mindful to sit and chat, watching the timer tick down the half hour.
We'd occasionally get too warm, open the door and drink some water. Afterwards we had a hot tub with a fantastic view. We saw a robin that peeped away on a nearby branch, and the view of the hills was lovely, the morning mist lifting to reveal more and more landscape.
Meeting Eileen from Leitrim Cycles
We got showered and set off for Drumshanbo, where we met Marian and Sinead from Visit Leitrim at the gorgeously delicate Sweet Geranium cafe. Lunch was a lovely goat's cheese salad, and warmed up with more peppermint tea.
We left the cafe to meet Eileen from Leitrim Cycles, got kitted out for a cycle trip at Acres Lake down the "Blueway" - a network of accessible paths, canals and lakes that make paddling, cycling and walking outdoors easily and very appealing. Despite the rain, we donned helmets and got on our bikes to follow the canal down towards Leitrim village. Eileen was a fantastic companion - keeping us right and explaining the variety of options for electric bikes, mountain bikes and different trails and possibilities to explore Leitrim by peddle power.
The rain made it fun, knowing we were in for a soaking meant that we just accepted it and starting laughing.
The openness of the water provided perspective - far ahead or behind, yet short focused to the sides. Something about that channelling vision that makes cycling more fun, where you can see far only in the direction of travel - like blinkers on a horse. It let us focus more on what we were doing, with the elements closing in.
Warming up & drying out at Sweet Geranium cafe
Once we made a round, circling back to Drumshanbo, we decided to dry and warm up again at the Sweet Geranium cafe, following Eileen's recommendation to try the hot chocolate. Mark had already spied the carrot cake muffins which matched perfectly. We dried out at the cafe, and caught up with some laptop time.
Quick visit to the Organic Centre
The Organic Centre is a magical place for people wishing to dive deeper into the world of organic gardening. The centre provides courses, training, garden visits, a shop for all things green and as a step to connect the local community closer to the development of the centre they also have a blooming community gardening project.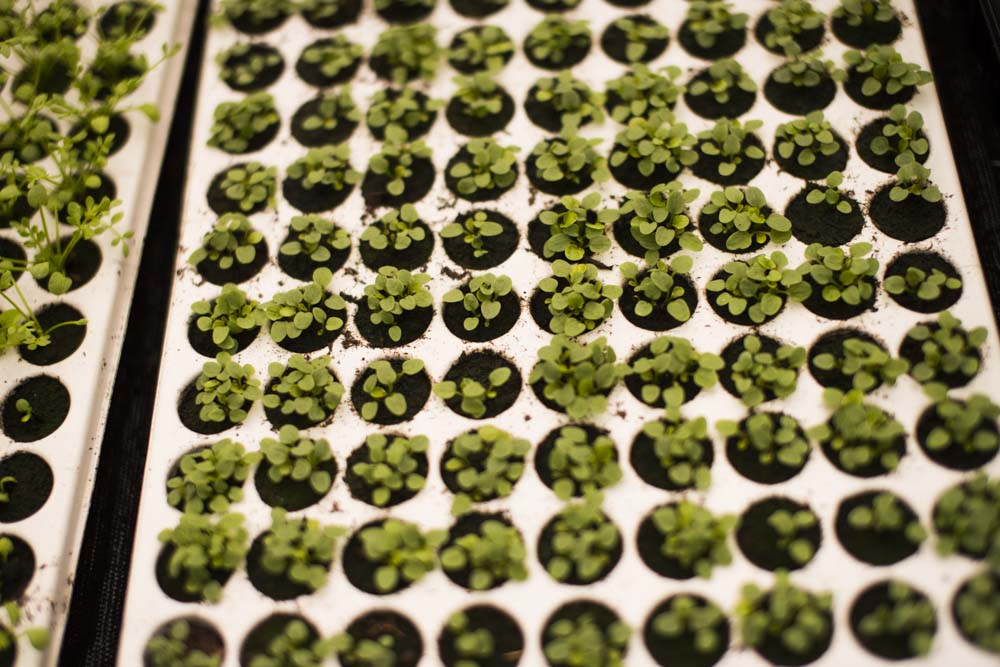 Irish Hawthorn Berry Fruit Leather recipe
At The Organic Centre in Rossinver, Ireland, Hans showed us a beautiful Hawthorn. You can pretty much learn everything there is to know about Irish plants (yes that might be an exaggeration, but that's how it felt). On a foraging tour with Hans we got to taste his homemade Hawthorn Berry Fruit Leather, made from the beautiful Hawthorn. If you are like us and would like to bring nature home, try out this recipe that we got from Hans.
The recipe was created by: Gaby Wieland, Neantog Kitchen Garden School.
1. Pick ripe hawthorn berries (1.5 kg of berries makes 3 sheets of fruit leather)
2. Place in a saucepan and add half their volume of water or apple juice, berries will be just covered
3. Simmer for 15-20 minutes and allow to cool. Mash the pulp with a potato masher or briefly blend in a food processor to loosen pulp from the seed.
4. Rub through a coarse sieve or use a food mill (Moulin or "Flotte Lotte").
5. If you like you can add some cinnamon or/and honey to counteract slight bitterness. Pour strained pulp either on baking trays lined with parchment paper, silicon baking mats or on non-stick dehydrator sheets less than half a centimetre thick.
6. Dry at lowest temperature if you use an oven until pulp is dry and leathery and easy to peel off without being sticky.
7. Either roll leather up or cut into pieces and store in airtight jars.
8. If dried and stored properly they will easily last for a year.
9. Add to your breakfast or desserts – a 2cm square everyday will help to keep your heart and circulation healthy.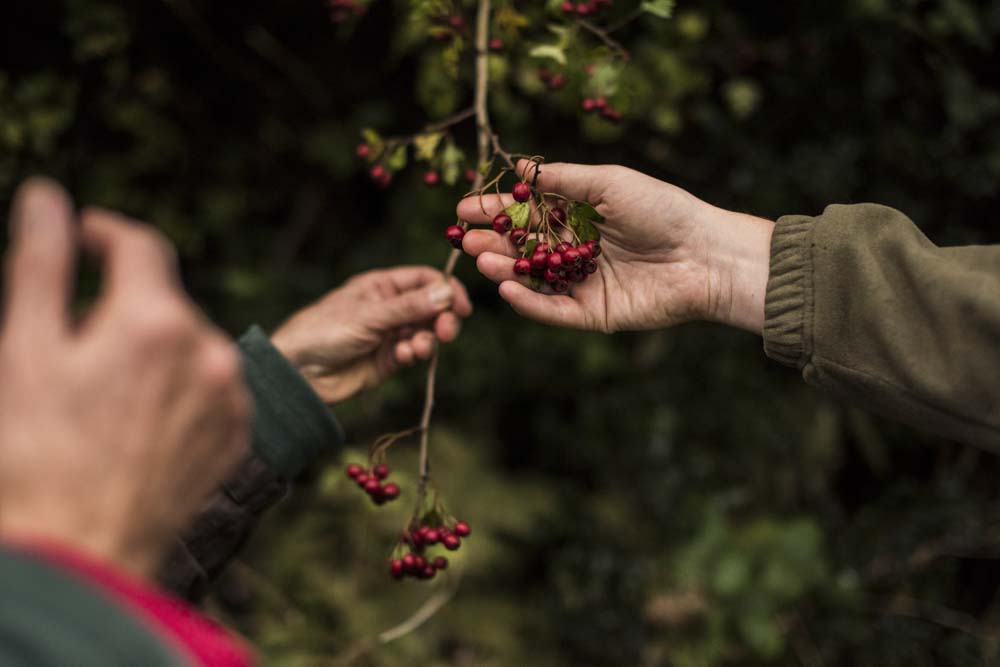 Bushcraft at Lough Allen Adventure
After spending time with Hans, we visited Kevin from Lough Allen Adventure for a few hours of bushcraft.
At the waterside of Lough Allen sits Lough Allen Adventure, ran by Kevin. He introduced us to their centre, which runs sustainable nature-based activities in the local area, from water activities like kayaking and sailing, to bushcraft and wilderness weekends.
We had an introduction to firelighting through bushcraft skills, which - as keen fire-makers ourselves, was different and fun. Then Kevin took the flint out and challenged us. Mark has always wanted to try flint firelighting and this was his chance!
Bushcraft to bring kids into nature
As we tried different ways of lighting fire, and tried getting an ember from a bow drill, we also spoke of the importance of bringing these experiences to younger adults, and how getting people to connect with the outdoors was of key importance in today's hyperconnected world. We know it ourselves, and it was great to meet people who are so focused on bringing these experiences to a younger audience.