Re-wild yourself in Sweden
Scandinavian hunting is based on two things: Finding food for your family, and managing the balance of the animal population. Thea comes from a family of Norwegian hunters and Mark has recently taken the hunting exam in order to start hunting in Norway. This slow adventure is special to us because it truly reveals Scandinavian hunting as a holistic experience. Scandinavian hunting is about friendship, food, amazing wild nature and skill. In this post you can read about how we went hunting with Evelina from JOY Event (Hunt & Health). She's a Swedish hunting guide who focuses on mindfulness and wellbeing while hunting in nature. We wish to explain all the different dimensions to show why hunting can be a beautiful way to connect with nature. At the end of the post you can also read about our journey in Sweden before we reached Ljungdalen to meet Evelina.
This post was made possible with help from the Slow Adventure in the Northern Territories (SAINT) project. Read more about our fantastic sponsor here! Although this post is sponsored, all opinions are our own.
Introducing JOY Event: Hunt & Health
Meet Evelina from JOY ("Jakt og Yoga", also meaning Hunt & Health) Event. She's a very experienced hunter, markswomen and advocate for slow adventure, helping lift up her local area to offer nature immersive experiences. Evelina's mission is to combine the wellness and health benefits of being in nature, with hunting - a way to keep in touch with the Scandinavian tradition.
As we closed in on Ljungdalen, we got more and more excited to finally meet her - but first we needed skis!
Sizing up our skis and getting ready for a hunting weekend on the mountain
After a hearty breakfast at Evelina's farm where we spent our first night, we left to collect our skis. Åke from Ljungdalsbergets ski rental helped us size up the right ones. Mountain cross country skis with steel edges, and big basket poles for deep snow. We got even more excited as the sun appeared, and then left to meet Evelina, who'd be taking us out for the next few days!
First glimpses of the sun
As the sun steadily increases its elevation, today was the first day of winter where it reached over the mountain ridge, bathing Evelina's farm in sunshine for the first time this year. This is the best part of Winter, and all the locals are smiling.
We took our skis and backpacks and met with Evelina. Her dogs, Shiva, Wixen and Minerva were super excited to get going, looking at us with big eyes as we faffed to get our things together.
The stillness of the dogs running, pulling Evelina along on her skis, was incredible. They settled into what they love doing and it became really quiet, a very natural way to being helped through the forest. We all had a go, and it was really funny to see how faster and further we went, overtaking the others, sailing on skis into the distance!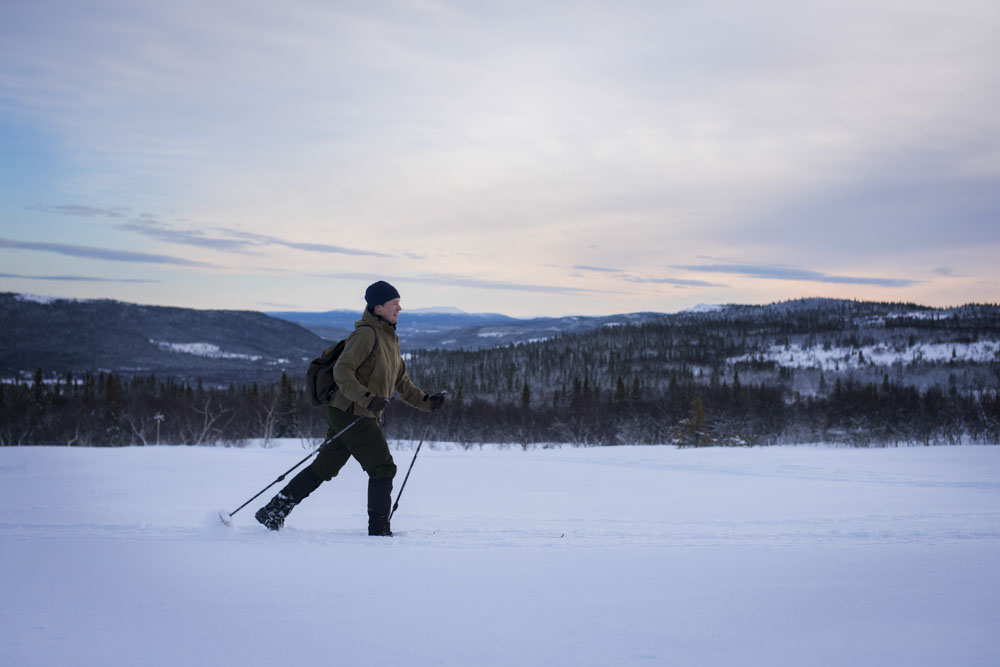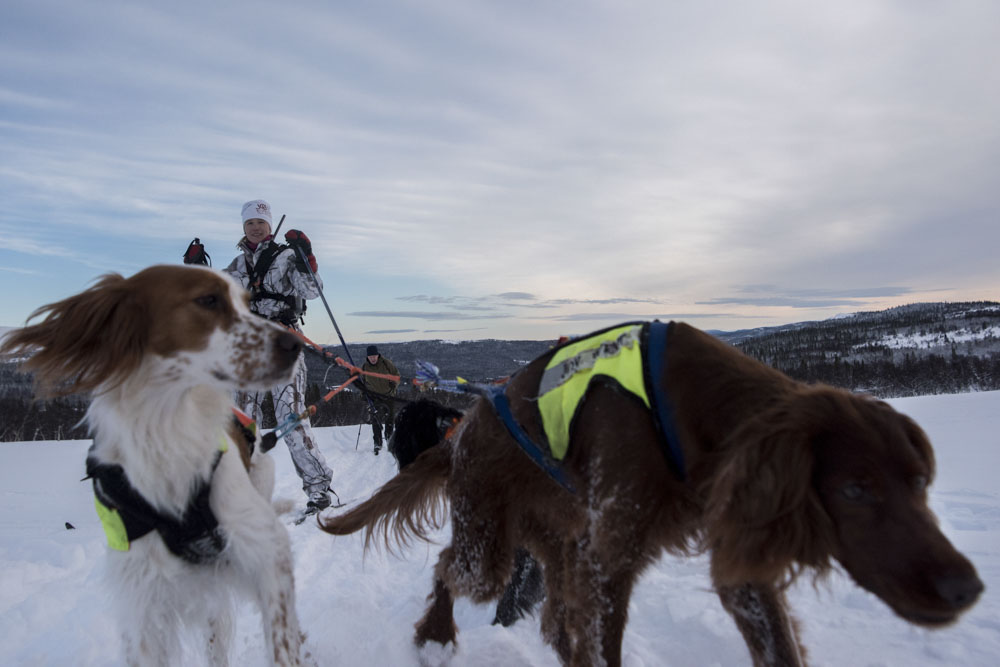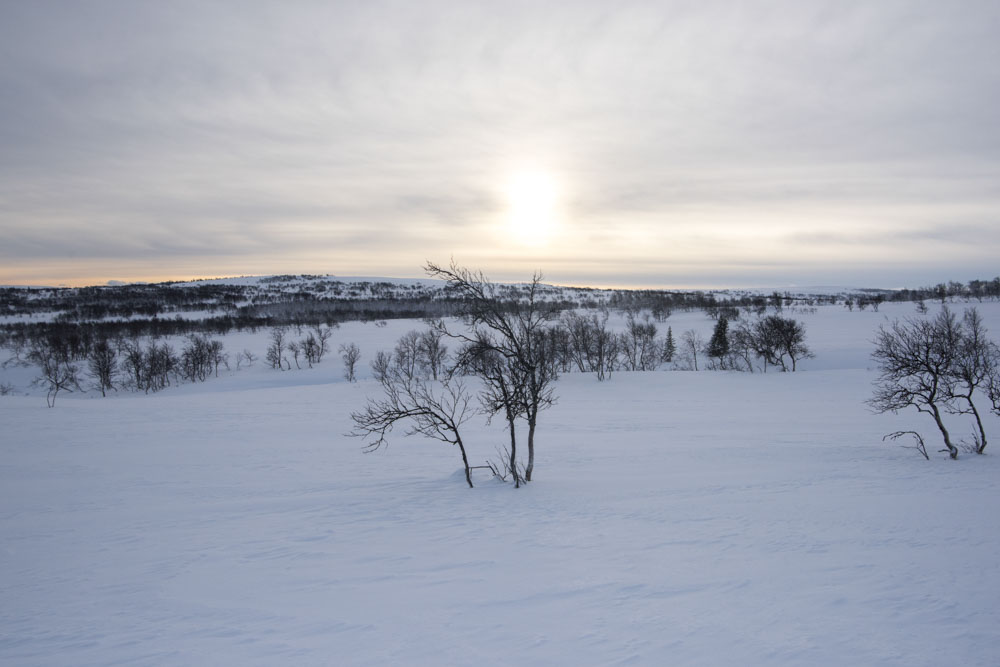 Going slow in the silent woods
There's something mystical about skiing through forest, where there's already a track or some hardened snow to follow. Over a meter had fallen in the last few days, so branches were bent over with the load - their tops meeting the ground again. A little birch rainbow you playfully ski under.
The closeness of trees, deep snow and not being able to see a long distance, brings a narrowness that makes us feel very present. It's completely different above the tree line, where the landscape stretches to the horizon and big skies await - so for now, it's wonderful to soak in these treasured times in the woods.
As we settled into the rhythm of the skis and slowly climbed in altitude, the trees eventually became smaller, then fewer, until only the dwarf birch remained.
Dwarf Birches
Dwarf birch is a wonderful tribute to a tree's ability to hold on; sturdy, slow and strong. Its buds provide the main food for mountain ptarmigan, and up here both ptarmigan and dwarf birch are in abundance.
Ptarmigan have helped sustain people here for a long time, and we were really looking forward to joining Evelina and her pointing dogs to see what we could learn and find. We'd leave the shooting to Evelina, she's a remarkable markswomen and competition shooter. We'd help by looking for sign and holding the dogs, which let us absorb the whole experience.
Arriving at Evelina's cabin
Evelina's parents met us as we reached the cabin. Rich smells of soup and seeing the smoke from the cabin's pipe put a big smile on our pink glowing faces.
We got introduced, and stuck into some amazing Goulash that warmed us again and re-energised. With it being early afternoon, we were ready for a quick hunting trip, getting us familiar with our surroundings before dark.
First time hunting for ptarmigan in Sweden
We got back on skis and glided by the cabin's sauna, it was already warming up for our return. Rounding the edge of a frozen lake, we could see small islands of dwarf birch, perfect places for ptarmigan to be hiding. Letting the dogs free was hilarious, they'd roll in the snow and play like kids. As Evelina pointed her ski pole and give them clear instructions, they'd go check out each area, picking up the scent.
When one of the dogs picks up a scent, it's really clear, and we reach for our binoculars to see if we can spot anything. It was like having a sixth sense. If the dogs moved on, we knew it wasn't interesting enough and so we'd push on.
As we rounded a corner we found Shiva in pointing stance; completely still, front paw lifted and nose directly at where she sensed a ptarmigan. We quietened and drew closer while Shiva - Evelina's more experienced dog, remained completely motionless. As Evelina got setup to be ready for a shot, Wixen couldn't contain herself any more, and let her inexperience get the better of herself. She kept edging forwards, ignoring our attempts to make her stand still, and a flock of 20 ptarmigan, fled up to the skies like winged snowballs. It was incredible to see, the intensity of the situation slowed everything right down. It was unfortunate we didn't get closer, but we were really glad for the glimpse of these wonderful birds, and the senses of the dogs at work.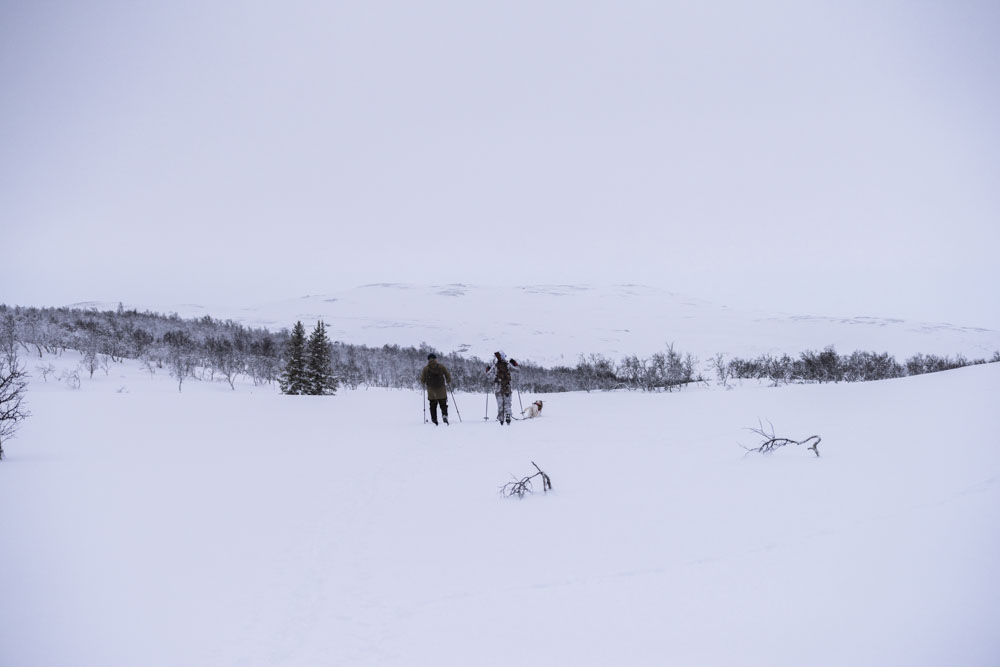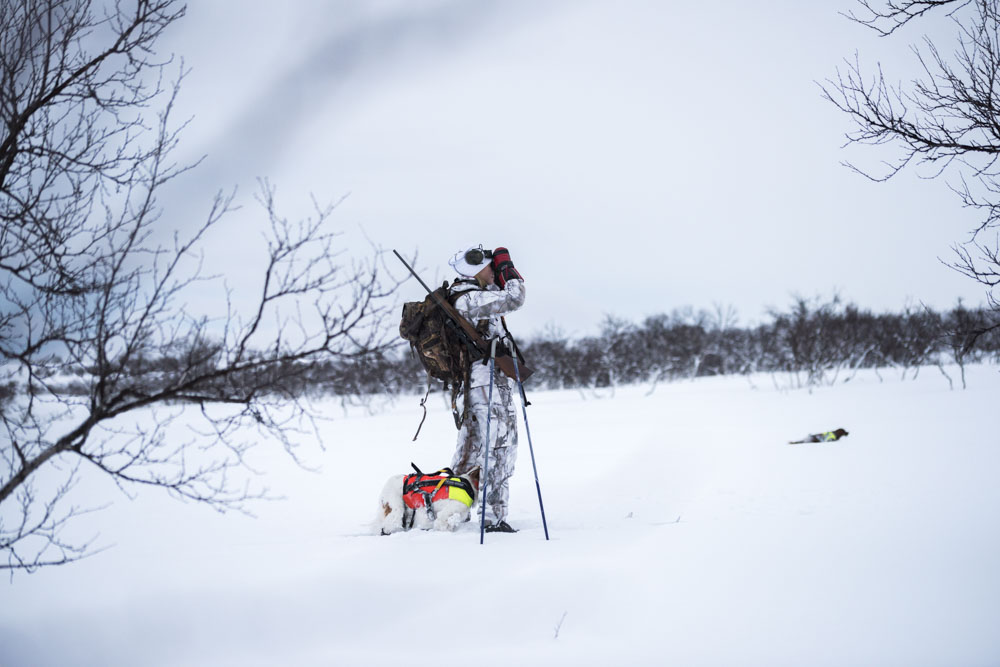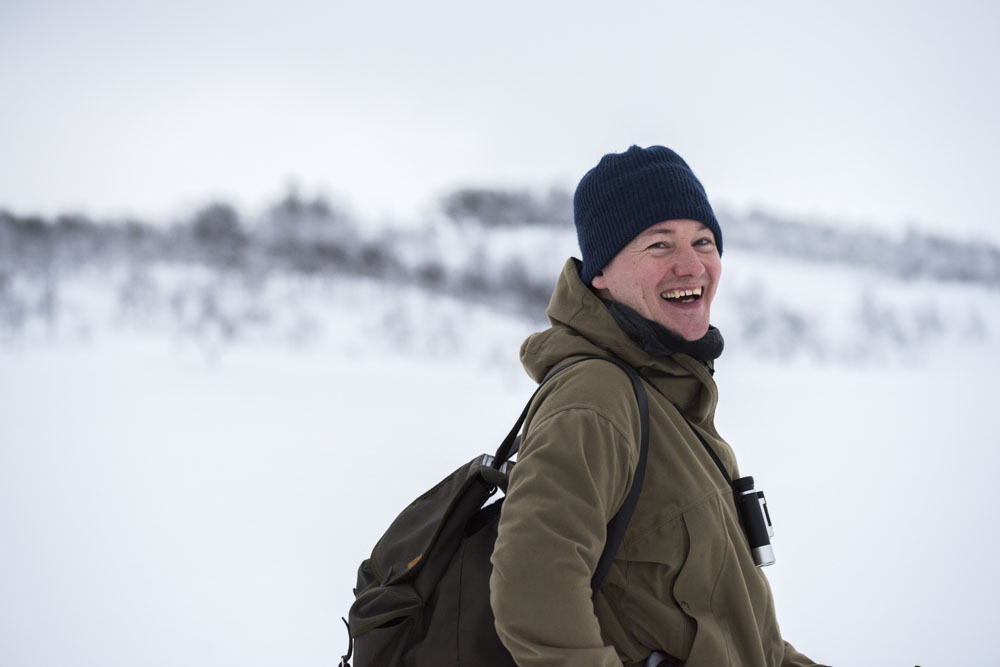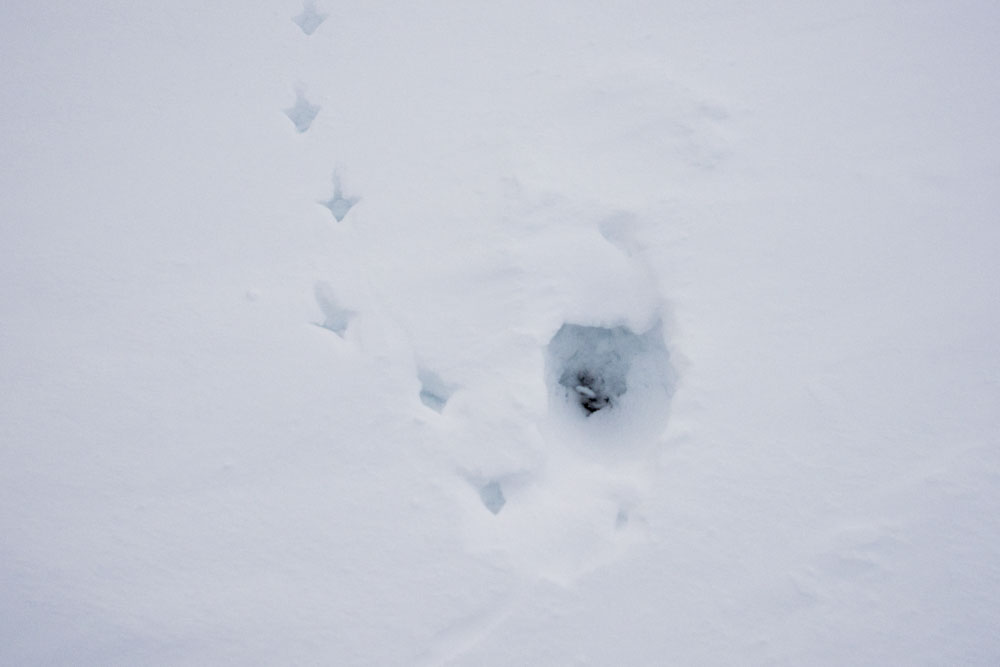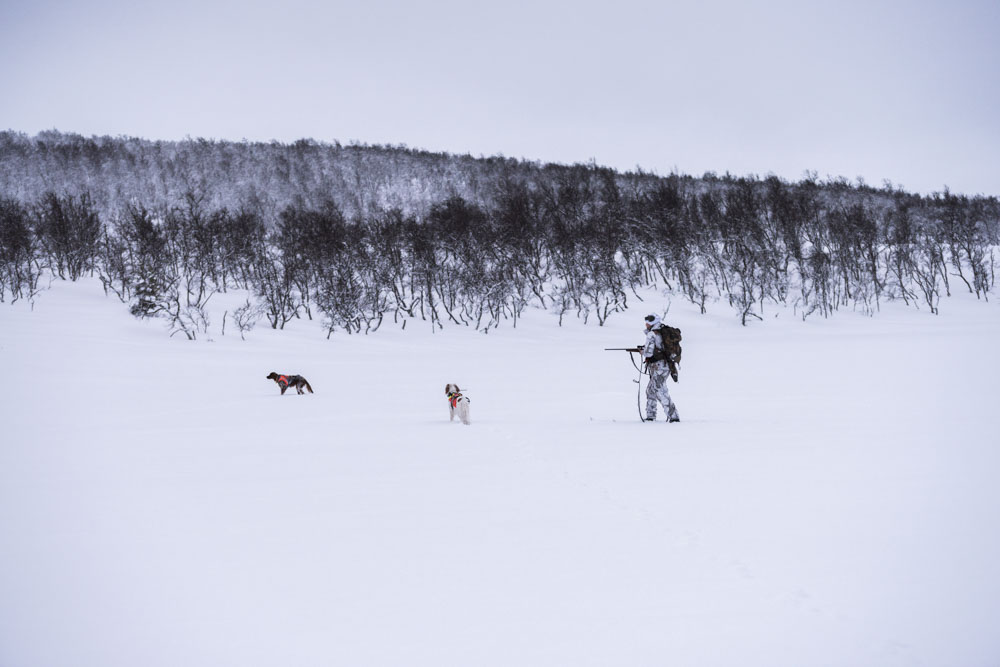 Local food and cozy cabin time in the mountain with JOY Event
As evening started to set in, we made a few more rounds and headed back to the cabin for some dinner and warmth. It had already been a long day for us and the dogs, and knowing the sauna was getting ready made it an extra easy decision to head back!
Ptarmigan dinner & Scandinavian wellbeing
Evelina's sauna was warm and inviting. We jumped in, added wood & bathed ourselves clean. A welcome beer went down well. She had dinner ready once we returned to the cabin; local ptarmigan fillet with sauce, jelly and red wine, followed by arctic char with a lobster & dill sauce, finished with a panne cotta topped with passion fruit seeds. We were bowled over at how good it all was, especially among the simplicities of a cabin!
Washed, rested and fed, we were excited to see what tomorrow would bring. Settling into our sleeping bags, we slept to the music of creeks and cracks from the glowing fire. The gentle wheeze of the wind meeting the chimney giving that cabin comfort of knowing we're snug inside whilst a winter storm was brewing outside.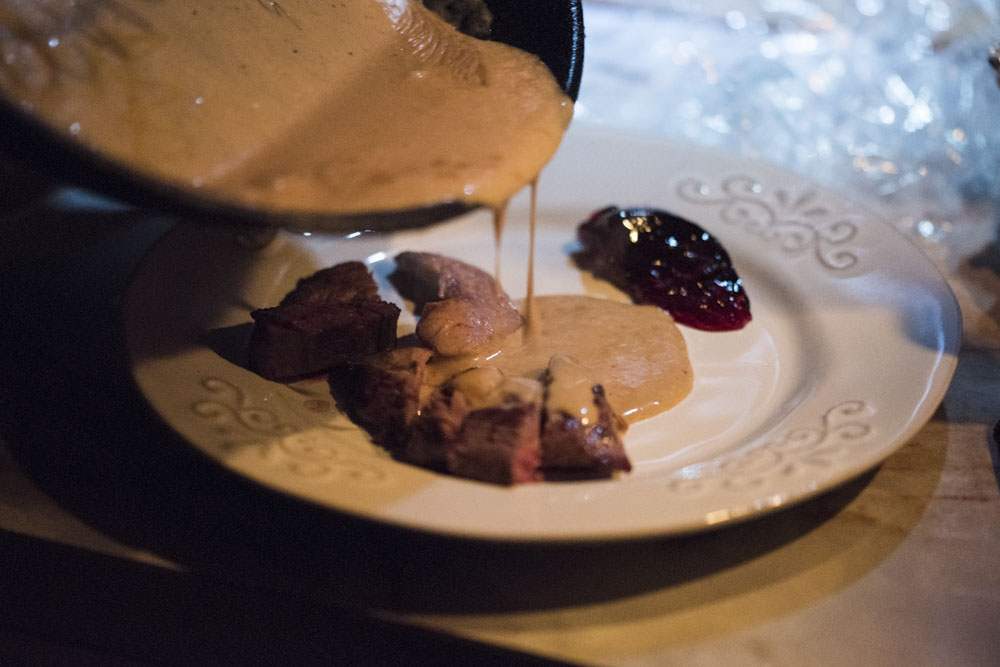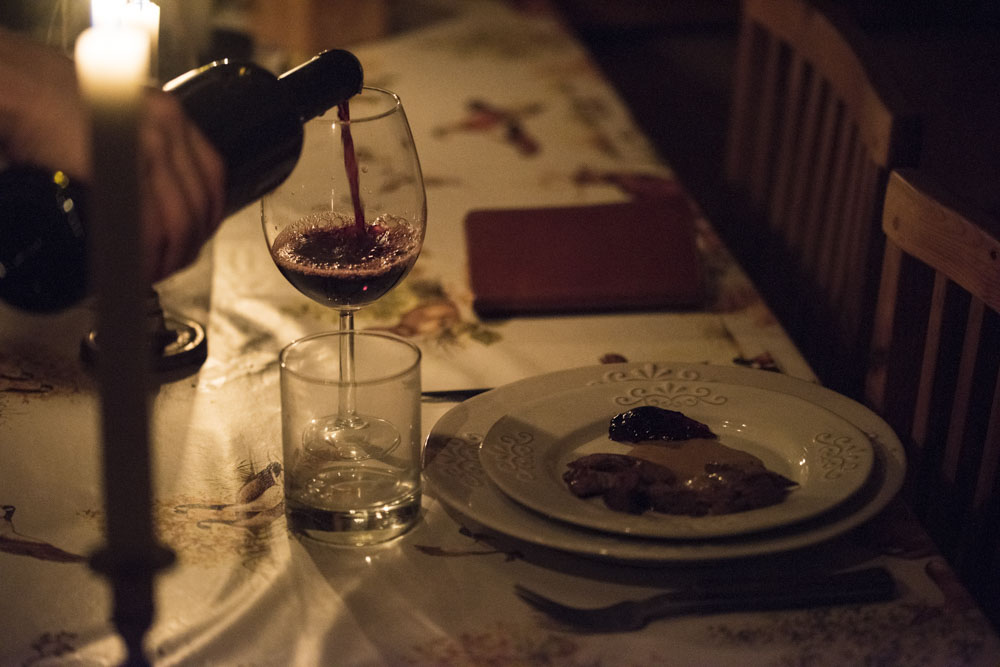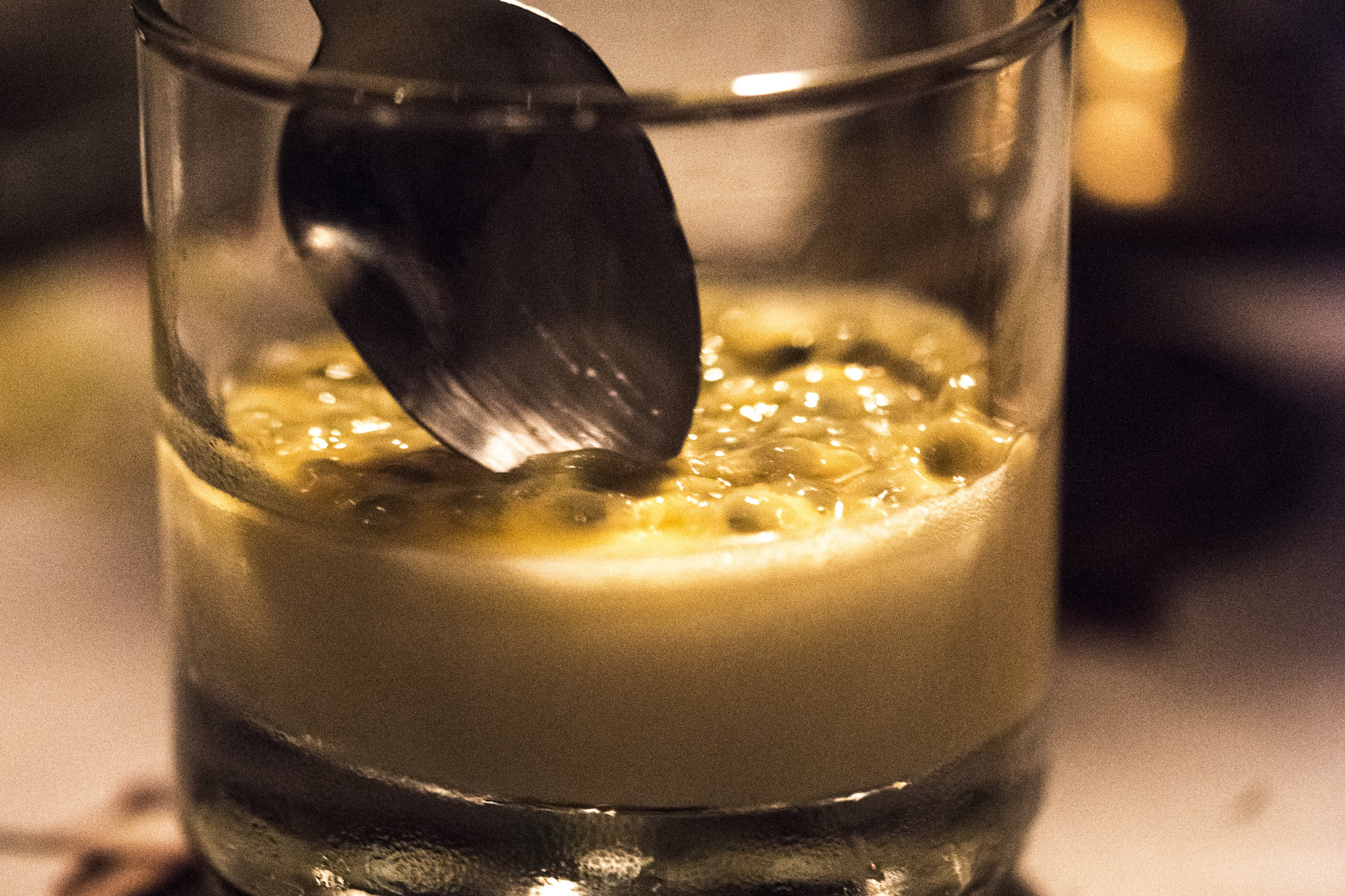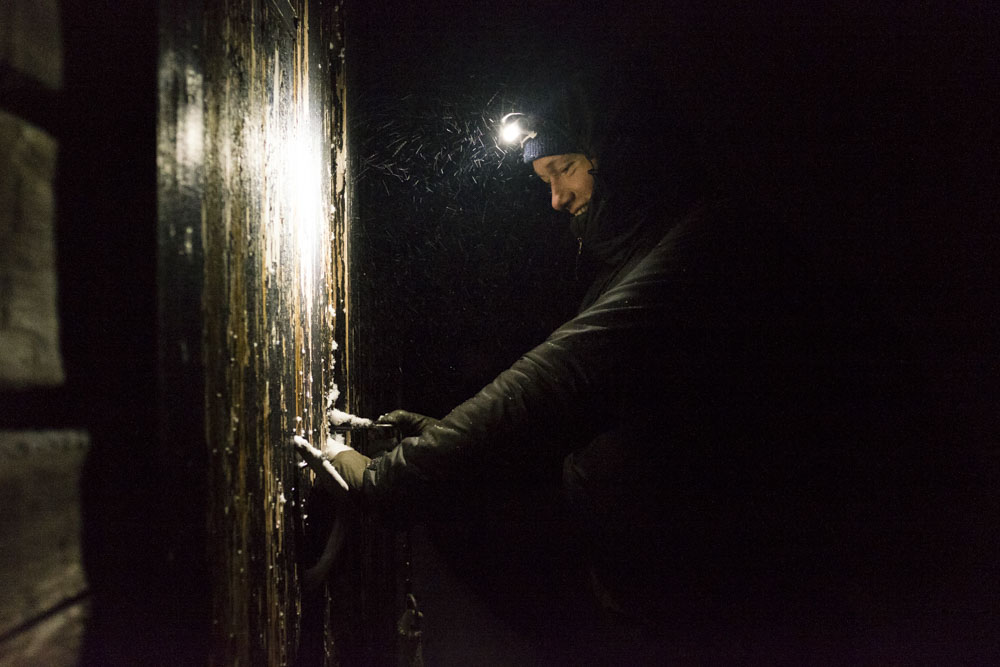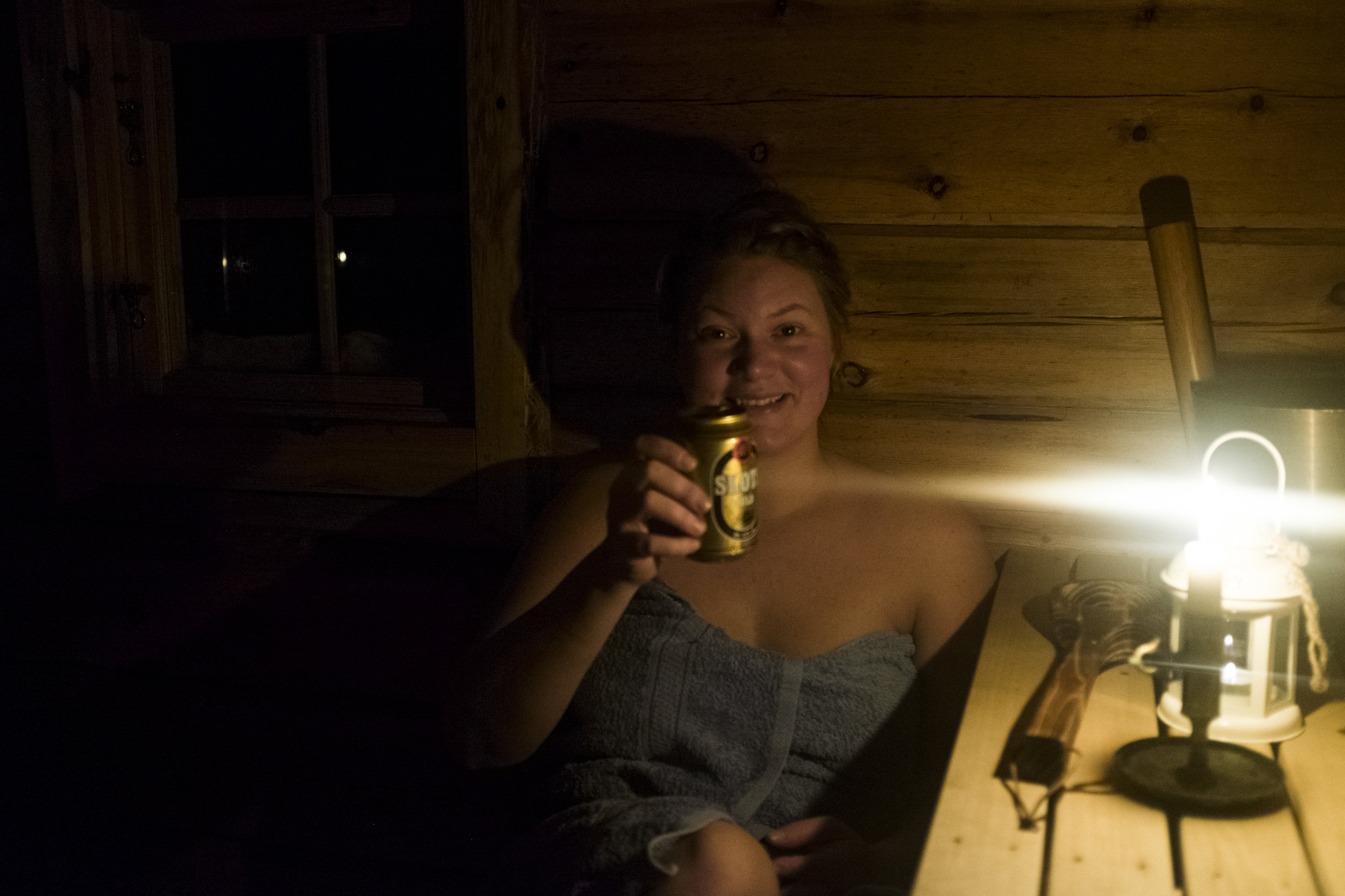 Mountain storm, mindful morning & breakfast
We had slept like logs. Before starting the day, we gathered around the newly lit fire. Evelina took us through a nice gentle meditation that got us refocused and left us more awake. The day would be full of positivity, with us being more aware of our surroundings and the importance of remaining in the present moment.
Storm in the mountain and hunting
As we got outside and felt the wind, we knew right away that today would be difficult for hunting. The wind had got up, blurring the horizon, making it hard to separate the snowy ground and the white sky. It's tricky to tell how long this could last on the mountain, so we decided to take some practice shots with Evelina's .22 rifle, noticing the differences the wind made on trying to be consistent.
In a brief calm, we decided to go out and make the most of it. We could always turn back, and descend until the wind got calmer.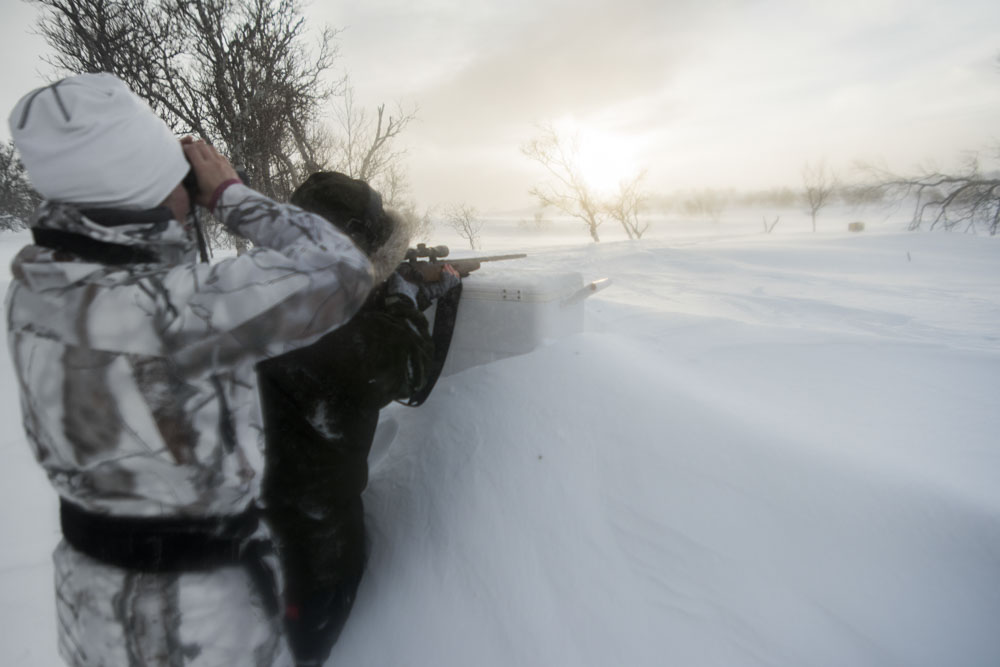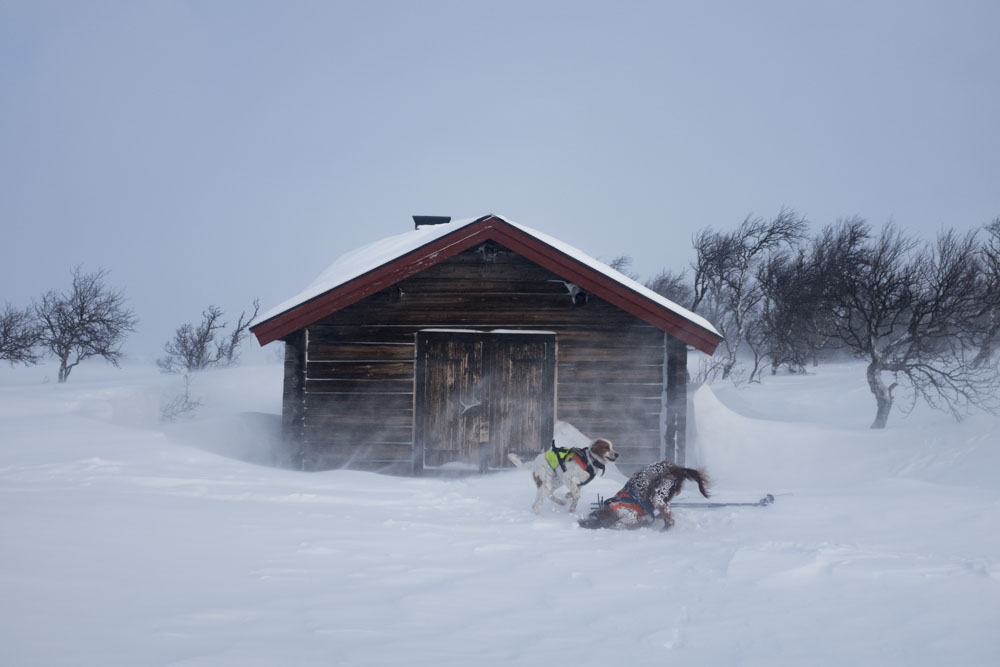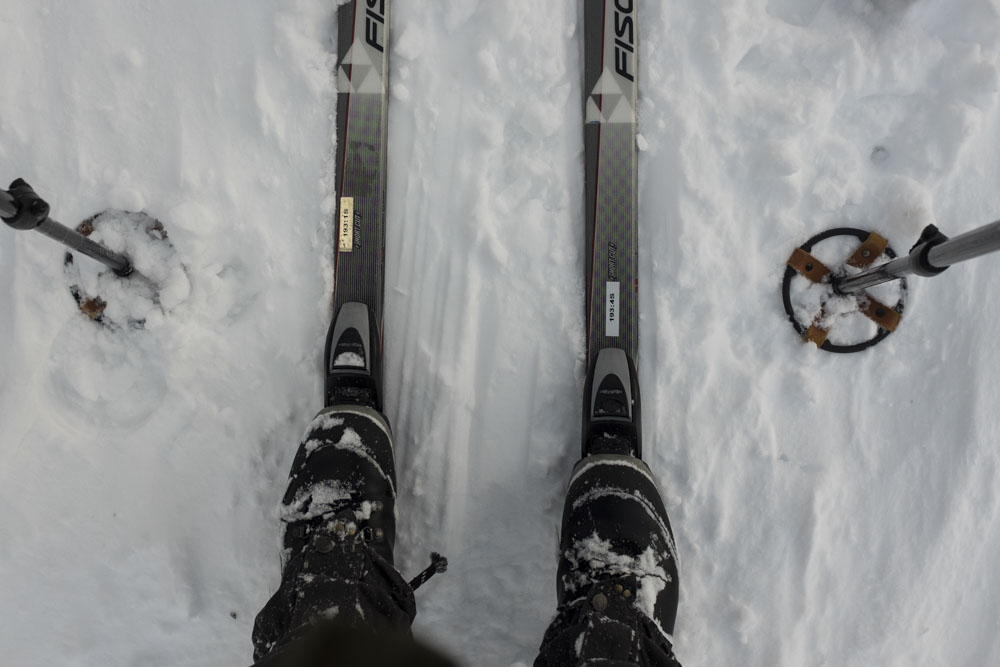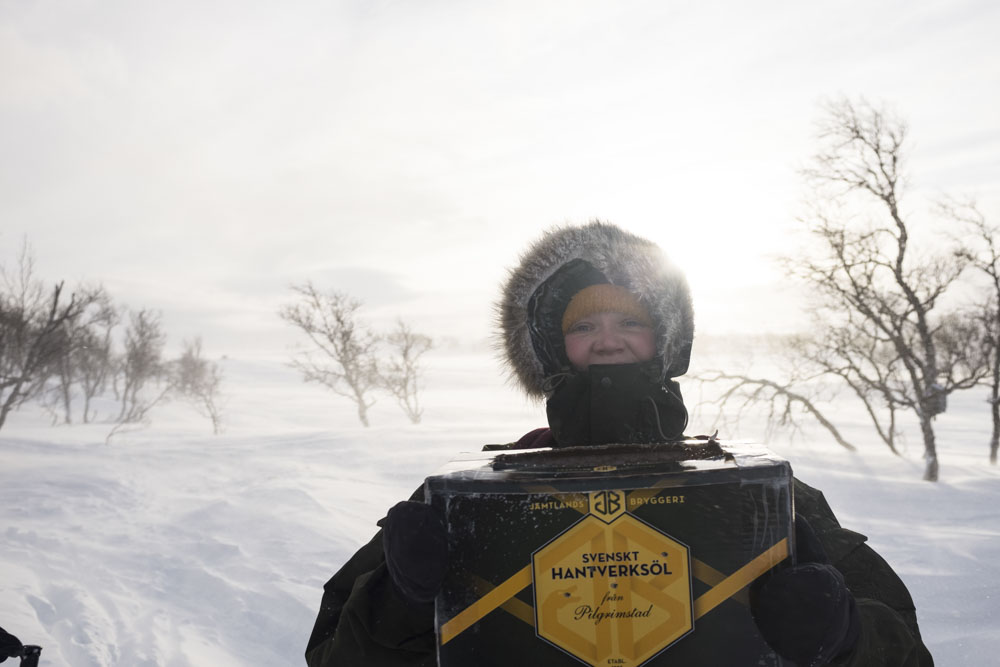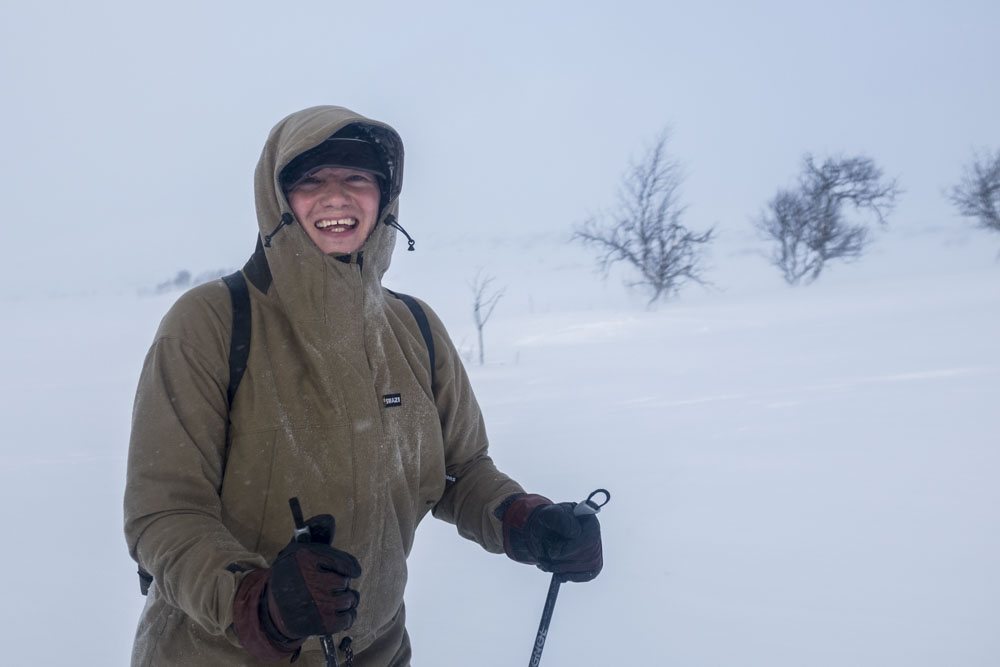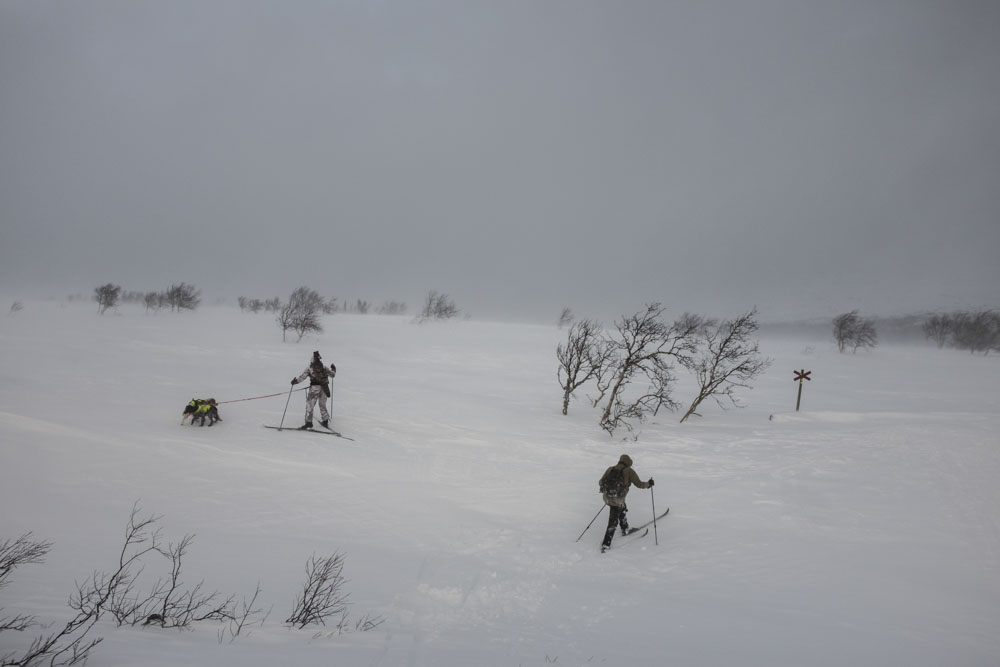 Keeping our eyes open
With the wind making things difficult, our second outing didn't last too long. It was our last day here, and so we decided to pack our things and try as we descended from the cabin. It was easier going for the dogs, and us - the wind quickly disappearing into the shelter of the hill.
Making our way down, Thea spotted something in the corner of her eye, scurrying in the trees. She told Evelina, pointing out the ptarmigan. Evelina approached slowly, taking off her skis without making a sound, laid her rucksack on top of a bent birch and took a shot.

We set Shiva off to retrieve it, and she came bounding back, happy and proud, with the ptarmigan in her mouth. Evelina's shot was clean. The intensity of the situation dissolved into happiness and appreciation for the gift from the forest.
Let's talk about the feeling of hunting
We discussed at some length about the feelings of hunting and how to write this blog post.
These birds are something we all treasure. They're wonderfully adapted to their environment, surviving winter with their white camouflage and feathered feet to help them walk in the snow.

Holding the dead ptarmigan was transformative, as we both saw it as food rather than as a dead animal.
Sustainable hunting
During our stay with Evelina we must have seen at least 20 ptarmigan, and signs of many more. It was really comforting to have seen so many. For us to feel responsible for taking something living for ourselves, we check-in with some guidelines: is it sustainable, is it culturally relevant, is it respectful, and is it humane.
Local regulation helps prevent over-hunting, however it's also important for us to check-in with our own feelings to make sure what we're doing was justified and ethical.
Thea's childhood and familiarity to hunting, and Mark's want for learning and experiencing more of it, made it easy for us to accept what we were doing. For us it's the same with fishing, walking in nature or any other interaction in nature. Being comfortable in nature is to treat nature with respect and by doing so, we find that we're able to enjoy nature's gifts in good conscience.
Evelina - a gentle and dedicated hunting guide
Our experience in Sweden has been one of the most inspiring slow adventures we've ever done with a guide, and most of this comes down to Evelina's unique way of combining wellbeing and hunting. It gave us space to check in with our own experience and at the same time test out a new and exciting activity. Thank you Evelina!

In the following text you can read more about other people that enriched our Swedish journey as we travelled towards Ljungdalen to meet Evelina.
Our journey through Sweden before meeting Evelina
As we both live in Oslo, Norway the easiest way to travel was by car. We spent our first night in Sweden in Tänndalen, Jamtland, where we met Karin. Karin's farm was a beautiful example of a Swedish summer farm and in summer she runs the farm in the traditional way together with her partner.
We stayed in one of her cabins and in the morning she showed us around the farm to give us an idea of how it was to be a farmer in times gone by. It was really interesting to visit the older farm buildings, once used as summer mountain lodges, and feel the differences land reform has made to rural Sweden.
Lots of energy into developing slow adventures and community engagement around visitor experiences from Karin and her friend Sara made for a great evening's conversation, and we really hope to come back again to discover more.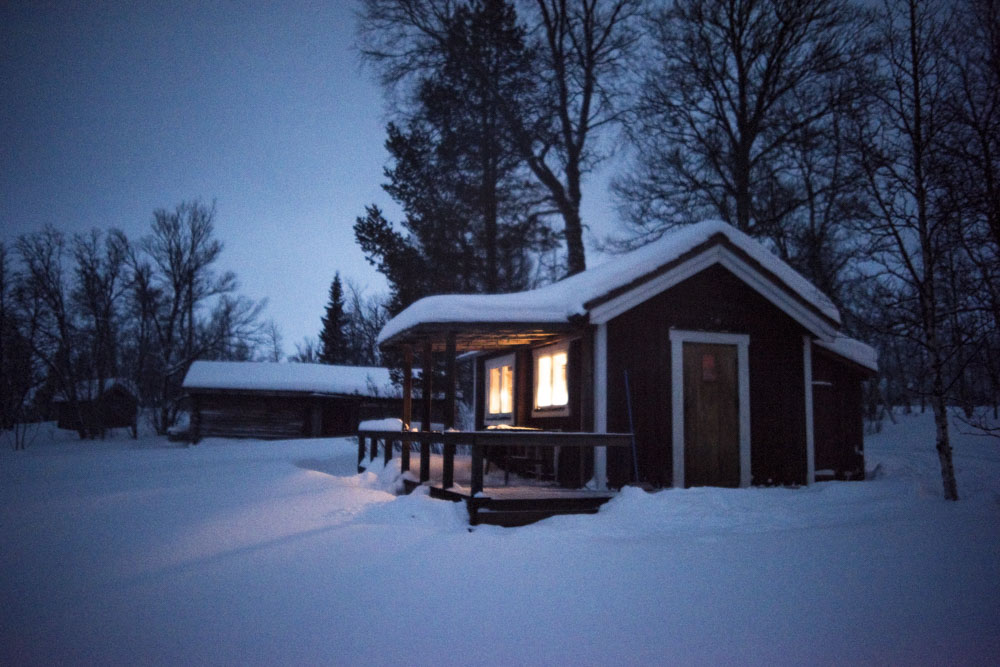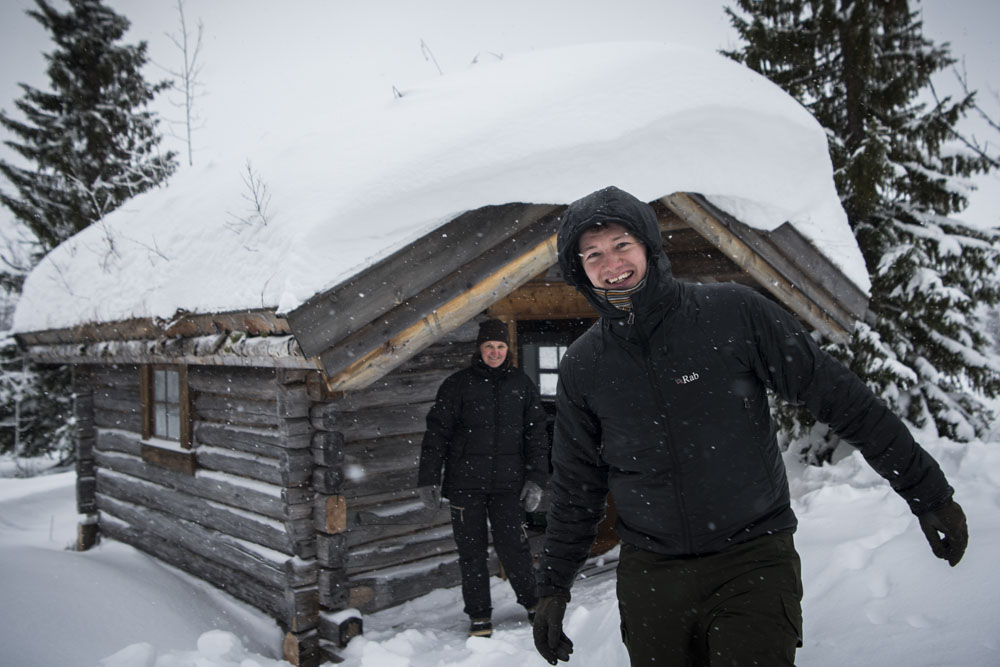 Julia - an artist inspired by local nature
We were lucky to meet Julia during our stay at Karin's farm. She is a young French artist living in the local village. She rents a small artist studio and creates beautiful prints, pillows, and jewellery with local materials and nature inspired themes. Check out her amazing Etsy page: https://www.etsy.com/se-en/shop/AteljeLillsjonaset