Slow Food in Northern Ireland
From the Slow Food Festival in Derry, to home grown vegetables and deer stalking in the countryside. Our slow travels in Northern Ireland were a series of food focused slow adventures that led us through the unique countryside in a very special way. Slow food and slow adventure go hand in hand, and this trip was a very nice way to narrow our focus and concentrate on experiencing a place through food. The result was amazing and in this blog post you can read about the different slow adventures that together gave us a holistic experience of slow food in Northern Ireland.
This post was made possible with help from the Slow Adventure in the Northern Territories (SAINT) project. Read more about our fantastic sponsor here! Although this post is sponsored, all opinions are our own.
What is Slow Food?
Slow Food is a global, grassroots organisation that promotes true enjoyment of good food with the commitment to community and the environment

– Derry City and Strabane District Council Slow Food festival

Northern Ireland and Derry's Slow Food Festival
We started our Northern Irish adventure in the City of Derry. The historic city was hosting their Slow Food Festival, so we parked our car and went straight to the food stalls!

The festival was free and there was a lot of different produce to taste, buy, see and smell! In addition to the traditional food stalls there was a whole program with talks and courses and multiple food trucks serving delicious hot and cold street food for the hungry (or nibbly) visitors. We really enjoyed meeting the producers, and getting to know the people behind the produce.
The best things in life are cheese and honey
We started with a few tacos, quickly moved over to crispy wood fired pizza and ended up buying two beautiful locally produced cheeses.
Eating well and tasting different produce is of course the highlight of a food festival, but just as important are the festival spirit and conversations you get to have with people who live and breathe sustainable, locally produced food. One of these passionate people was Wendy from Moycraig Ling Honey. She actually ran out of honey jars for sale, but we managed a little taste from her display jar. At her stand she had a full sized bee hive for us to look at, and she was super helpful by explaining the different steps to keeping bees. This was a real inspiration and maybe we'll be able to have honey bees of our own one day!

Thea got so excited, she's currently reading Do/ Beekeeping.
If you fancy a trip to this year's slow food festival, go to city of Derry on the 29th - 30th of September 2018!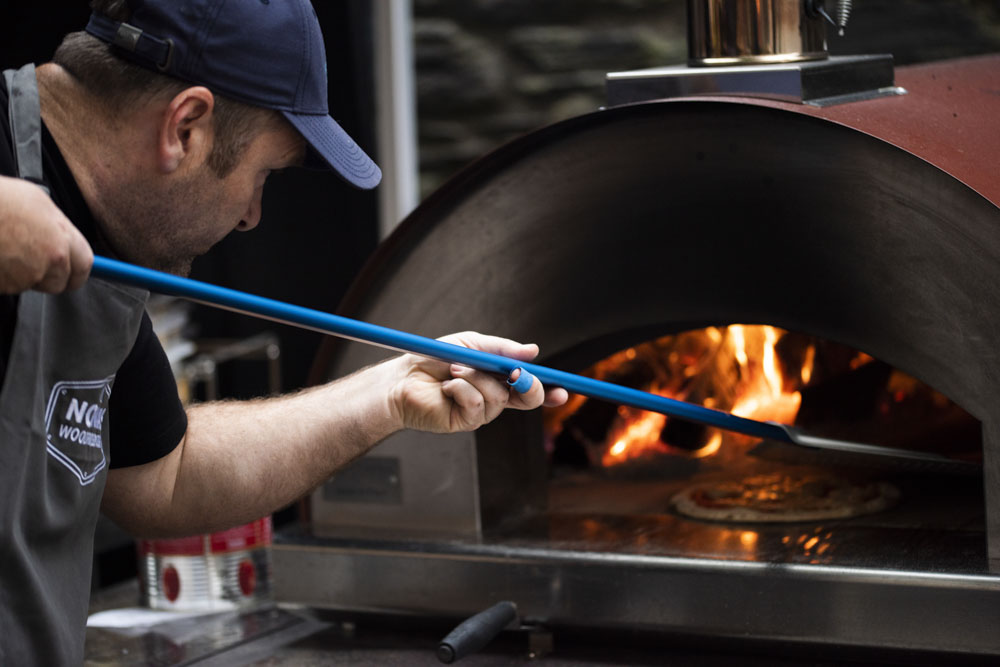 Tasting local food
Meeting the people behind the food lets us get a better idea of the process and benefits of buying local produce, and it's great to support them by leaving money with the locals. We got to know some of their issues, such as sustainability, and impact from bigger industry like fish farms. Each person we met had a clear passion for what they're making, and their own story. To taste that story is what delights the senses when tasting your way through a place.
Slow Food & Slow Adventure
Most slow adventures include some form of food, because tasting the place you're visiting is such a great way to sense place. It makes you pause, and food is always a reflection of the landscape you're in. This is why the Slow Food Festival was such an energy boost and it really kick started our slow food journey through the Northern Irish countryside.
Beer tasting at The Walled City Brewery
After our wonder around the festival area we finished our city visit at the Walled City Brewery. They have a lovely restaurant/bar located close to the river. Before we went even further into our ongoing food coma, we met up with our guide and got a guided tour of their small, charming brewery.
Tasting local craft beer
It's no secret that craft beer has taken the world by storm. In this part of Northern Ireland, no beer was locally produced from 1925 until James Huey and his wife Louise established a local brewery whose aim was to change all that. Local ingredients give a uniqueness to beer, making it belong to that place.
Producing true local beers for the locals of Derry, the Walled City Brewery does an amazing job of bringing craft beer, food and people together. We took a brewery tour, followed by some beer tasting and a meal.
Food & Beer
Before our beer tasting, we were given a tour of the brewery. Checking out the different malted barleys and smelling the various hops started opening the senses to tasting some lovely beer. After being shown round the process, their equipment and the ingredients, we sampled their collection of beers and sat down to a delicious plate of tapas - including a wonderful humous, and a pint of their best beer!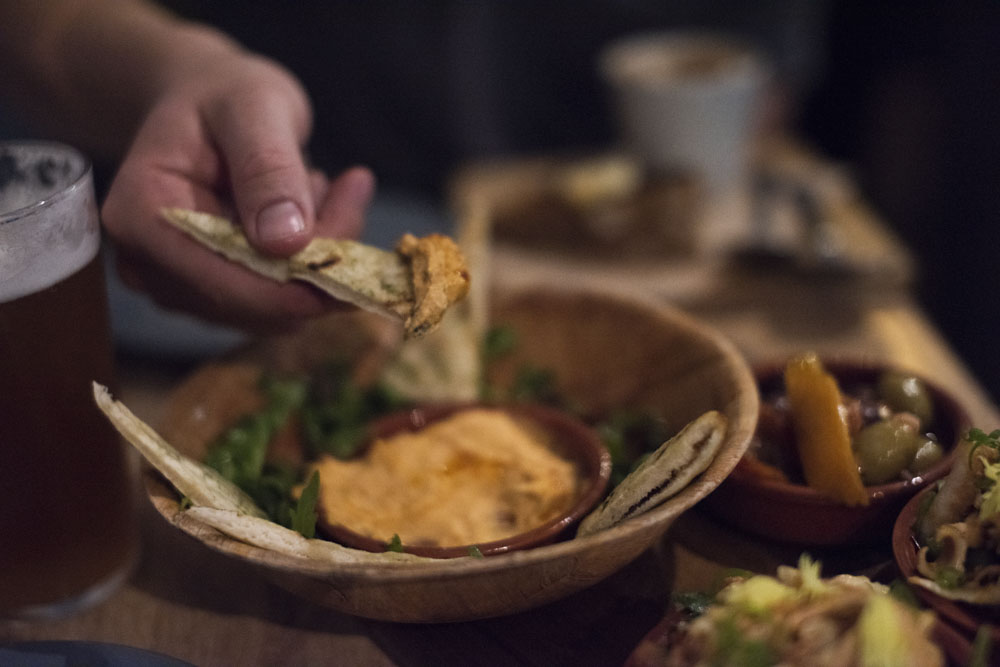 Breakfast at Finn Valley Cottages
Self catering cottages are one of the best ways to get close to the local community, and Finn Valley Cottages are a great jumping off point for adventures in the area. Bradkeel Social Farm provided a wonderful breakfast hamper for us. Having already met the cow, ducks and lovely people behind the Social Farm, we felt extra welcomed by the connection we had from visiting the farm providing our food.
Home cooked meals and longer stays
Self catering cottages are perfect for slow adventuring because it encourages you to stay for longer. By staying longer in one place you naturally slow down and there's something comfortable in having a stable place to rest. When your days fill up with exciting adventures, having a good nights sleep is equally important as your daytime activities.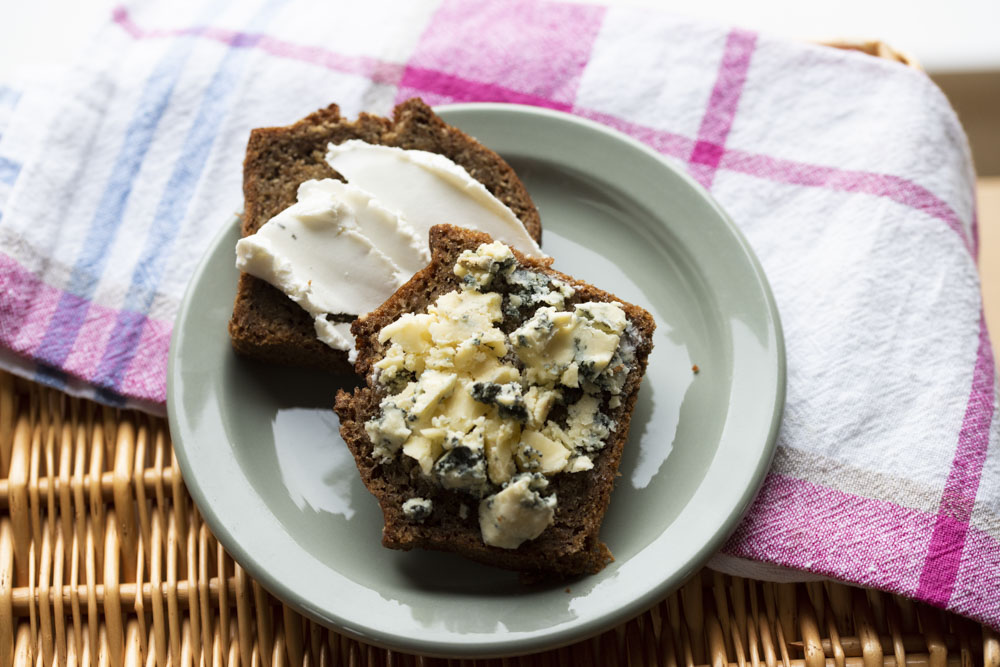 Deer stalking
Our activity from Finn Valley Cottages was to go deer stalking. Brothers Brendan and Jarlath Winters provide kit and guiding for local fishing and hunting excursions, so we joined Brendan on a local stalk to try and find an older stag that posed a danger to other animals due it's old age. This is the opposite of trophy hunting, and instead has a purpose of managing the wildlife in an area for sustainability - much like hunting in Scandinavian countries.
Learning from a local guide
Following in Brendan's tracks, we walked silently through the woodland, edging the fields and constantly glassing (using binoculars) on the hill to try and track him down. Walking so slowly and quiet that your own breath seems loud and noisy was very exciting. Every sound made you focused, and it was hard work following our experienced guide on slippy paths and over barbed wire fences.
After all our efforts, luck wasn't on our side that day - despite it being a beautiful day out, and learning lots from Brendan's experience and cheerful character.
Northern Irish hospitality at Finn Valley Cottages
After stretching our legs on the hill, we got back to Finn Valley Cottages to organise some dinner. Brendan helped us source some local veg, and promised to return with some local venison, so we started preparing a dinner as a thank you.
Food is a great way to bring people together, especially after sharing experiences in nature. Even without the result we had hoped for, the food was fantastic and in great company.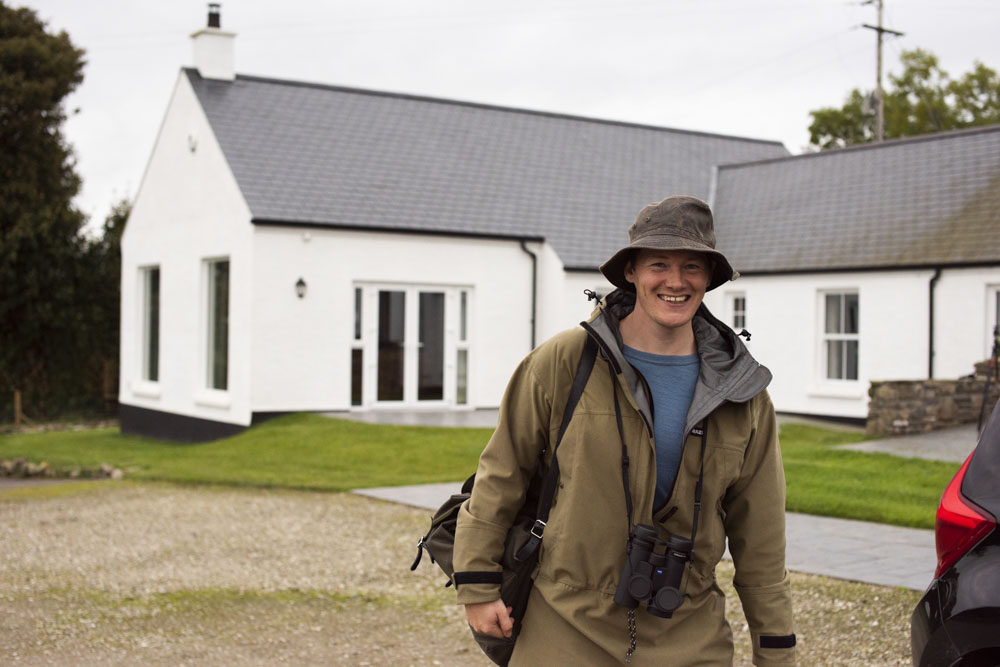 Slow adventures in Northern Ireland
Through the Slow Food Festival, beer tasting, locally sourced hampers and sourcing food through deer stalking, we got to experience each part of the Slow Food process, together providing the palette of the region.
Have a look at the links below if you're planning a slow adventure in Northern Ireland.
Interested in fishing or deer stalking? Or maybe you need to update your fishing gear? Check out River mourne guns and tackle on Facebook.
Self catering cottages at Finn Valley Cottages.
Taste amazing local beer and check out their craft beer brewery at the Walled City Brewery.
For more information about this year's Slow Food festival check out the Derry City & Strabane website.
Visit a local farm and learn about local small scale food production at Bradkeel Social Farm, and read our blog post from the farm here.
We'd like to thank SAINT, the Northern Periphery and Arctic Programme, and the European Union for their support in making this post happen!
The SAINT project: www.saintproject.eu