Slow adventuring in Norway
Nestled in the northern part of Trøndelag, mid-Norway, lies a spectacular valley: Lierne. Together with friends from Trondheim we went for a once-in-a-lifetime experience that let us explore our edges! Brought together by wilderness, slow food and a stay at Gunn Anita's eco-farm, our own achievements made for an unforgettable adventure. In this post you can read about how we rappelled down Sisselfossen waterfall accompanied by two kids, and our amazing stay at Brattvoll eco-farm.
Film from our slow adventure in Lierne: rappelling with kids
This post was made possible with help from the Slow Adventure in the Northern Territories (SAINT) project. Read more about our fantastic sponsor here! Although this post is sponsored, all opinions are our own.
Lierne - a municipality and a national park in Trøndelag
The journey to Lierne usually starts from Trondheim, following the fjord, winding past the river Namsen and town of Grong, then east through highlands and forest until Norway borders Sweden. The same is said for our journey, only we started by car in Oslo, with one over night in Trondheim. It was a long drive, but it is unbelievably nice to see how the country changes as you head further north.
In 2014 the King of Norway protected Lierne by signing a decree to give it National Park status, and when combined with nearby nature reserves, it forms the largest conversation area in Norway: 2369 square kilometres.
Nature and tradition comes first and foremost here. Most families engage in the yearly elk hunt and there is never a shortage of berries, mushrooms or brown trout from the surrounding wilderness, making it a great area for slow adventuring!
Stay at a Norwegian family-friendly eco-farm
Our base for the weekend would be a cabin on Gunn Anita's eco-farm Brattvoll. She prides herself by looking after families and groups, catering with local and wild foods. A living symbol of slow adventure herself, her intimate relationships to nature, and her resourceful spirit means unlimited possibilities.
As the world turned silent and we stepped out of the car, we could hear Gunn Anita's happy hens chattering. Her three adorable cows were resting with gentle breaths as the autumn sun said goodbye, diving into the distant hill.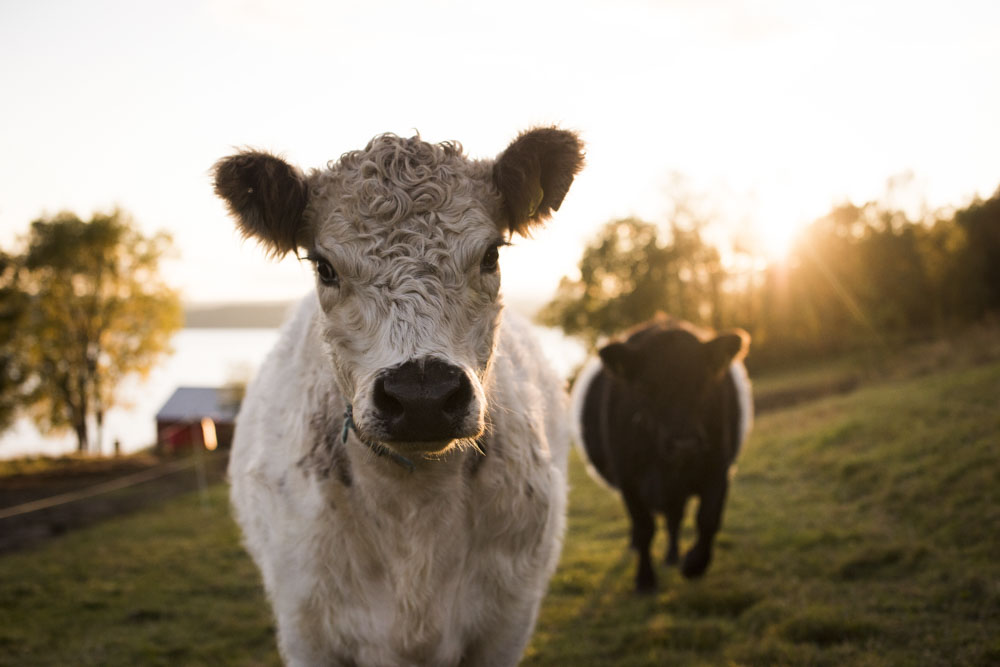 A wild food welcome
The unique smell of chanterelle was in the kitchen, and 5 hungry bellies were keen to discover what was cooking. A slow twist on Scandinavian traditions, we had a hearty chanterelle soup to warm us up, all recently foraged from the local forest by Gunn Anita.
Rappelling at Sissel Fossen
After telling ourselves that the northern lights wouldn't get any stronger, we finally closed our eyes to a good night's sleep. After a tasty breakfast we were ready to meet our guides for the day: Jan Bjørnar and Jørgen - who would be taking us on a hike & rappel at Sisselfossen (The Sissel Waterfall). Sisselfossen is a 130 metre dancing waterfall, flowing down the colourful mountain side. The flow of water peaks in spring, but the intense autumn colours gave the scene a spectacular feeling.
Sisselfossen named from a local Sami woman
Its name comes from a rather sad story about forbidden love. It's said that Sissel was the name of a young Sami woman, living in the area. The story says she fell in love with a local farmer. At the time, this was not accepted by the locals or by the Sami community. In despair she threw herself from the edge and it is said you can still see her dancing in the white water.
What is rappelling?
Rappelling is a safe way to descend steep cliffs using rope. For this guided experience we controlled our own decent with friction on one rope while a second rope functioned as a backup (on certain parts of the trip), controlled by our guide.
Guided rappelling in Lierne
Jan Bjørnar and Jørgen, two local guides that provide rappelling-adventures to get people closer to nature, would be our guides. They both grew up in the area and it was obvious that a close connection to the land is second nature to them. Their safety focus and professionalism made dangerous and spectacular locations not only accessible for the whole group, but also safe and fun.
Once we got kitted out, we started our hike through the deep forest, gradually getting higher and higher, with the changing views drawing our heads around to pause and look. As an introduction we tried some smaller, easier rappels - and this was great fun for all of us. Feeling safe, going "no hands" and the cool-factor was something the kids relished in.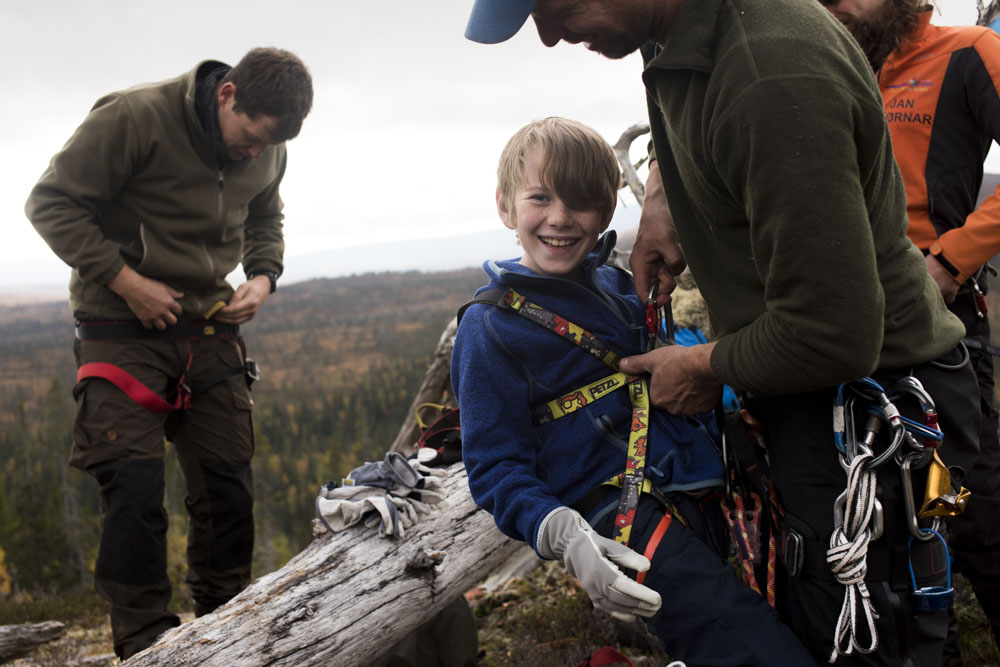 Starting easy
As Jørgen left to set a few things up, Jan Bjørnar led us up the hill where we met the main river flowing towards its first decent. We met Jørgen there, and clipped into a rope that let us cross to the other side - like an assisted river crossing. It let us get into the routine of clipping in and feeling safe.
Exposed views
Once on the other side, we could get really close to the edge, knowing that we were safely secured to the anchor ropes. This let us take in the full exposure of the drop, the valley and the energy of the rushing water nearby!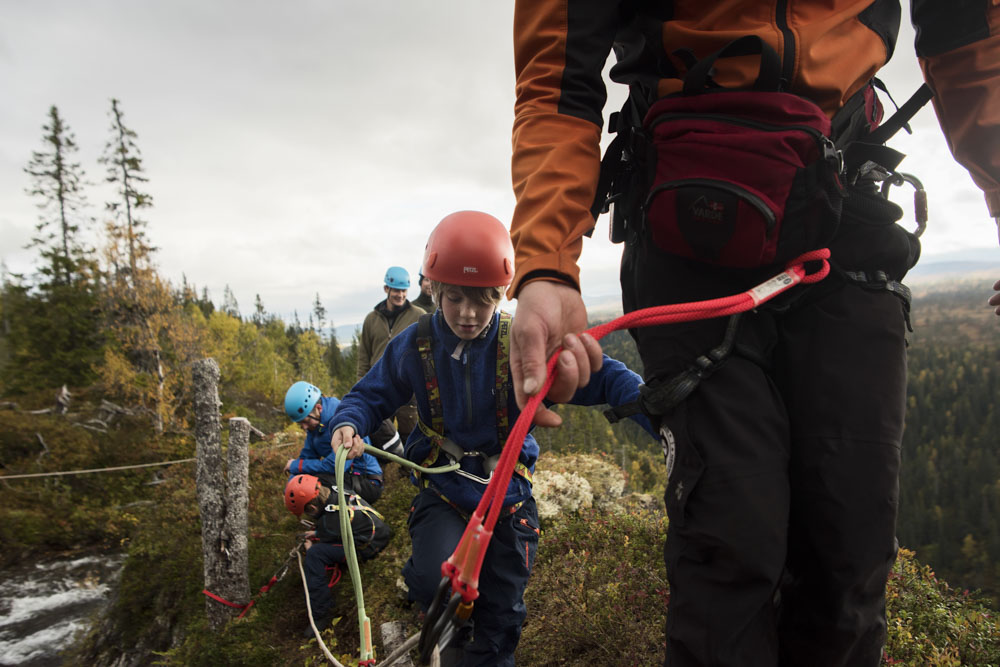 Something for all the senses
The view of the drop was stunning, the narrow valley running as far left & right as you could see, with the rush of water slipping into gravity below. The sight and sound made the heart pump, and the release of adrenaline from the situation gave everyone gleaming eyes.
After rappelling down some 10m and 15m drops, we got used to taking the vertical way down. The rushing sound of water kept the excitement up. Our last rappel brought us to a beautiful pond of water on slate, a small flat oasis breaking up the waterfall gave a natural setting for lunch. Jan Bjørnar made a fire and supplied us with hot drinks, salmon & reindeer wraps and lovely sweet, soft flatbreads from a local bakery. We all felt like this hidden pearl was just for us.
Exploring sustainably with a sense of respect for nature
Ropes are what kept us safe when we were on the edge. Trusting the ropes is an essential part of comfort when you are confronted with 100 meters of thin air. All the ropes used in this adventure where placed by Jan Bjørnar or Jørgen as we went along. None of the ropes where bolted or permanent, making our adventure mobile and adapted to our level. By not bolting the ropes and by making the adventure a little different every time, they also protect nature from heavy wear so it's left more untouched.
Jan Bjørnar and Jørgen had such a nice way of slipping off to set up new ropes that we did not really notice this practise until months later, sitting in the comforts of our home talking about the trip. We never noticed wear on trees used as rope anchors or disturbed moss in the hillsides. By constantly treating nature with respect, we and others to come, are granted a unique window into the untouched wilderness of Norway.
Levelling up
The guides had one last (optional) trick up their sleeve - if we wanted, we could do a final 30m rappel beside the main waterfall. We asked the kids, who got super-excited again and agreed. This rappel was really exposed, starting from an overhang. The rope dangled over the drop. Both Jørgen and Jan Bjørnar went first to show us how it's done, which made us feel safe and inspired despite a slight fear from the height.
Wild moose dinner, music & cosy cabin
We were knackered out by the end, but delighted that the two boys managed so much. Walking back, we appreciated the balance of fast excitement and slow adventure - that we did it all by foot in untouched wilderness.
Gunn Anita had dinner ready for us, and welcomed us back with an accordion song which brightened the room. We sat down to a dinner of moose fillet, dessert with wild berries and vanilla custurd, and hit our cabins pretty early, sleeping like logs.
Catching fish = eating fish
The next day we took the row boat out, fitted it with a small electric (near silent!) motor and tried our fishing luck using an Otter. It's a wooden rudder that swims out on a line, going parallel with the boat. From the line are smaller lines with flies and small spinners. We got in a good tangle the first time around, but Gunn Anita was patient enough to help untangle it and joined us to oversee it's use.
We caught two brown trout around 600-700g and were really happy! She prepared the fish and delicious roe, and brought it up to the grill at our cabin with some other treats. Suddenly we had a picnic right where we had been sleeping, with that wonderful lake view.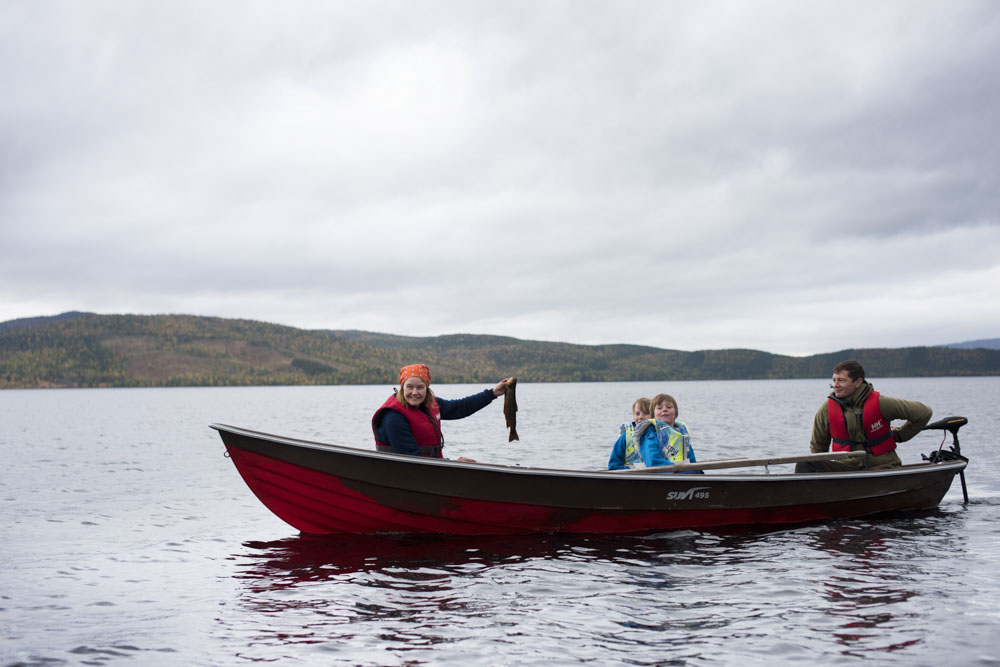 Safe hands in untouched nature
Slow adventuring in Lierne comes from the culmination of a few passionate locals, who want to share the uniqueness of it's nature, by working together. It was fantastic to experience a journey that was made possible by the hard work and partnership of dedicated locals.
Putting the trust and responsibility in Jørgen and Jan Bjørnar's safe hands meant it was easier for us adults to enjoy the experience and exposure. We all felt like kids again, a sense of accomplishment, and a deeper impression of what untouched nature can provide.
For more information about Gunn Anita's eco-farm:

Norway is (in our biased opinion) an amazing country for slow adventuring, check out Wild Norway's website for more amazing slow adventures: https://www.wild-norway.com/

Gunn Anita and Wild Norway can also put you in contact with Jørgen and Jan Bjørnar if you fancy a waterfall rappel!

Planning a trip to Norway? Don't miss our other blog posts from Norway.
We'd like to thank SAINT, the Northern Periphery and Arctic Programme, and the European Union for their support in making this post happen!
The SAINT project: www.saintproject.eu